Is a Costco Membership Worth It?
Is getting a membership at Costco worth it? Costco has two categories of cards available to choose from which are the business membership cards and personal membership cards. Having a business membership card allows the member access to purchase any products that are business-related, personal, or for resale use.
The Business Executive Card costs $120 and comes with a 2% annual reward, while the everyday value business member card costs $60. The second type of card available to buy (the personal membership card) also has two cards in its category. The Gold Star Executive costs $120 and also comes with the 2% annual reward, and the everyday Gold Star card is $60. The business membership would be helpful for someone who is always buying business-related items. All items come in large quantities/packages, which would make it much easier to make one trip to one store instead of having to go to many different places. 
Costco usually has many deals going on and shoppers can always find coupons online for items. It might be easier to go to stores such as Walmart, Target, or Smith's if the shopper doesn't live with many people or if they would rather get smaller portions of the items that they want to buy.
Junior, Erika Gallardo says, "I like shopping at Costco because I have a pretty big family, and we usually need to buy a lot of groceries. By going to Costco we can stock up on what we need and it lasts us a while."
Costco sells everything that someone could need such as electronics (TVs, computers, phones, etc…) clothes, food, kitchenware, they offer car repair, and much more.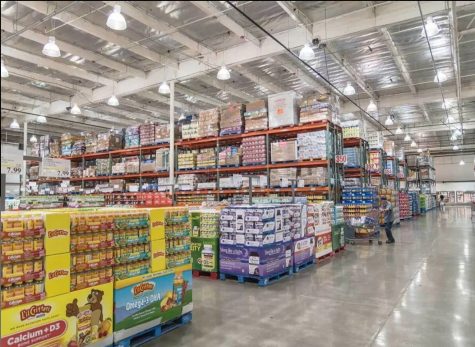 Costco used to have food samples that a shopper could eat and see if they wanted to buy the item or not, but because of the coronavirus, they had to discontinue that. Although they don't have samples anymore, they still have their food court open. In the store's food court they sell hot dogs, pizza, chicken bakes, fountain drinks, ice cream, and smoothies. These foods taste very good for their prices and are made very quickly.
"I think that having a Costco membership could be very beneficial for people who need to purchase large amounts of an item, and I just think that it's an easier way to stock up on groceries," says Gallardo.
Even though Costco memberships could be called expensive, it is useful to own one of their cards if customers have a big family, own a business, or need to buy large quantities of a product.