'Breaking' Barriers at the Olympics
 It has just been announced that breakdancing will now be included in the 2024 Paris Olympics. Breaking is the preferred term amongst the athletes. In 2018, breaking was introduced at the Youth Olympics in Buenos Aires. The International Olympic Committee, IOC, was given the idea back in 2018 and made it a reality for the 2024 summer Olympic games.
There are mixed reviews on breaking being introduced into the Olympics. Many are excited, but others are hoping that the essence of the culture doesn't get lost within the competition. Some have compared breaking to an equivalent of gymnastics, and how they are both physically demanding. With there being many differences, they can't be judged the same, but with both being physically strenuous they are similar.
"Of course, there are massive differences, too. And that is part of the challenge, as breakers try to introduce their competition to Olympic audiences. Battles are not won by the person who spins on his head 100 times, but by transitions, and expression, and minuscule gestures and moves that the uninitiated might not notice," states USA Today.
Breaking is considered a new-wave sport following climbing, skating, and surfing which will be in the 2021 Tokyo Olympics. The IOC President, Thomas Bach, is excited to have more gender-balanced, youthful, and more urban sports added to the sporting events. 
Typical breaking competitions consist of one-on-one battles, with each dancer getting 30-45 seconds to showcase their talents, then the other dancer responds. There are  a lot of different aspects that go into competing. The dancers have to communicate or paint a picture through movements on the dance floor.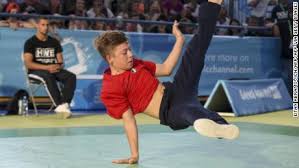 USA Today wrote, "Breaking competitions typically consist of one-on-one battles, with three rounds apiece. Each battle features alternating bursts of flips, spins, kicks, and freezes in which one competitor breaks for about 30 to 45 seconds, and the other responds. A group of three to five judges then pick a winner to advance to the next round." 
The amazing thing about this sport is that the majority of the rounds are improvised. Though some may practice a few moves, there is no way to determine what the other competitors will do, so they have no way to know how to one-up the other person.
Though there are many additions to the 2024 Olympics, there were some sports taken out. Some may be disappointed in the subtractions, but there is no way to add more amazing sports if the Olympic committee doesn't get rid of others. 
"Alongside the additions, the IOC made subtractions: The slate of 329 medal events in Paris is 10 fewer than in Tokyo, including four lost from weightlifting, and the athlete quota in 2024 of 10,500 is around 600 less than next year," says ESPN
ESPN and USA Today have given insight into the newest additions and subtractions of the upcoming summer Olympics. Kids need more representation of different sports, and breakdancing is a great addition to show kids that they can achieve their dreams.