Shadow Ridge offers many electives, including marketing, which is just one of the many. This class helps a lot of student's futures, preparing them for majors and careers such as Economics, Marketing, Business Management, Hotel Management, and Accounting. 
Kim McCoy, marketing teacher, stated "The student store is part of Marketing Education and DECA (an International Marketing Association for high school students)."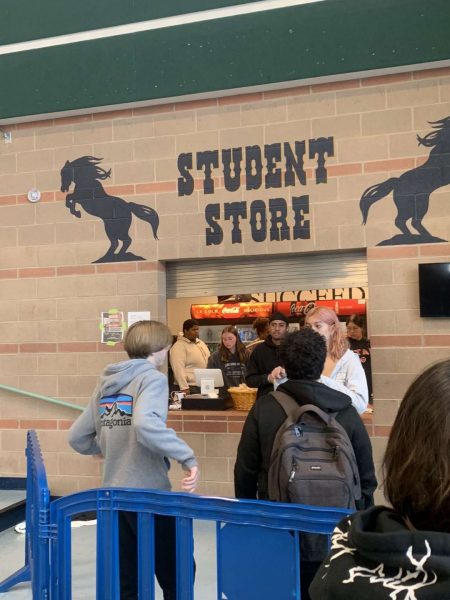 Many students throughout the day visit the student store during lunch, where they sell snacks, drinks, and other things like Chick-fil-A, Panda Express, and Pizza Nation. In Marketing II, students are able to work in the student store. Without these students, the student store would not be as successful as it is.
"Students work in the store as part of an internship to assist them with soft skills to prepare them for workplace readiness and career readiness," McCoy added.
The marketing class is a fun environment where students can interact, and gain life skills and real world knowledge.
McCoy stated, "Students have fun, and challenging real world projects, competition for Student of the Month, and receive perks such as employee discounts." 
The marketing class also helps with students struggling to interact with others. Between the student store, and the presentations they do in class, students have the opportunity to open up more and spread their wings socially. 
Join our Principles of Business & Marketing and Marketing I classes along with DECA to have fun challenging real world projects.
— Kim McCoy
Junior, Francisco Liles stated, "The class really helped me to become more social."  
Students are able to share their ideas and learn things about the real world like financial and social working environment experiences. Some students enter the class thinking it will be like any other, ready for lectures and notes, but are greeted with opportunities to learn things that will actually help them later in life.
Students also have the opportunity to earn college credit as well as the elective credits required for their graduation from taking this class. Being a Career and Technical Education course, students take tests to show how far they have come in the class, and can gain opportunities for college credit.
McCoy stated, "Students have to pass two tests to receive 9-12 free college credits."
While some students may not be as interested in this class, if students are wondering about joining a marketing class at the Ridge, they have options like Principles of Business and Marketing, Marketing I, and DECA. The class is a good opportunity for students to start building up their life skills early, as well as interact with other students.