Shadow Ridge's High School theater is a fun and exciting experience, and it's a great way for students at the Ridge to showcase their talents and passions for acting, including musicals and plays. 
Shadow Ridge theater productions can be incredibly entertaining and impressive. The upcoming play is an amazing opportunity for Shadow Ridge students to learn about teamwork, creativity, and self- expression. The next play that will be showing is The Beauty and the Beast.
The theater team can be incredibly beneficial for students who want to pursue acting in the future. It provides a platform for students to develop and modify their own acting skills.  
Freshman, Dakota Ragsdale, stated, "Well, in my old elementary days back when I used watch Disney channel, I used to always look up to Skai Jackson in Jessie. Seeing successful actors who looked like me was very encouraging and I was like "I want to act like her, I want to be her," so I decided to become an actor and having a role model to look up to was one of the main reasons I joined theater."
Through rehearsals and performances, students learn about character development, stage presence, and improvisation. They also gain experience in working with a team, collaborating with directors, and understanding the dynamics of a production. Shadow Ridge theater can help students build confidence, develop their voice and physicality, and learn how to connect with an audience. It's a great stepping stone for students leaning towards a successful career in acting.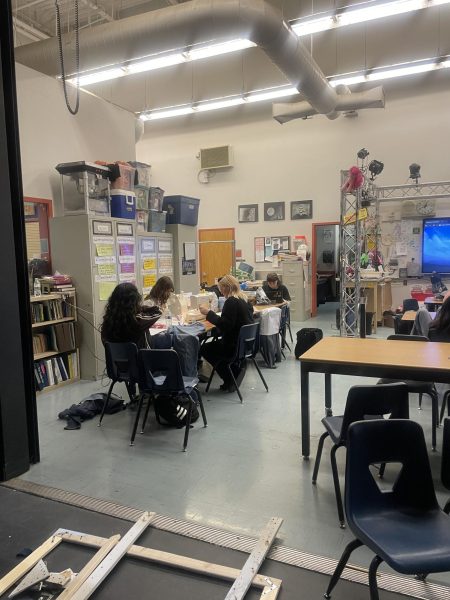 Theater can be a great way for introverted students to cope and come out of their shells. It provides a safe and supportive environment where they can express themselves creatively. Through acting, introverted students can explore different characters and step outside of their comfort zones. It allows them to develop social skills, build confidence, and connect with others who share their passion for theater. Plus, being part of Shadow Ridge's theater production creates a sense of belonging and community, which can be especially helpful for students. It's a great way to embrace their unique qualities and shine on stage.  
Mrs. Hartley, theater teacher states, "Theatre gives a student the ability to express themselves and build their confidence. They can use it for the rest of their lives in classes, jobs, and life in general. I encourage students interested in acting to take a leap of faith, sometimes if you take that first step the challenges you'll overcome will lead to success and help you discover new talents you didn't know you had."