With intramurals and the winter season right around the corner, the wrestling team here at Shadow Ridge is back, working harder than ever, and looking forward to making this their best season yet!
Wrestling at Shadow for the past two years, junior, Jacobi Gledhill expresses, "This year, I'm looking forward to meeting all of the new girls who will be joining the team. It's always great getting to see a new group of team members excited to start the new season."
Both new and returning team members are seen to work together to help motivate each other to compete at their very best. Persevering through challenges, this team shares an immaculate relationship, derived through their support. Both the members and coaches work hard to generate support for everyone on the team.
"I really enjoy being around my coaches the most because they push me to be better, and work with me to increase my abilities to do my best," says Gledhill.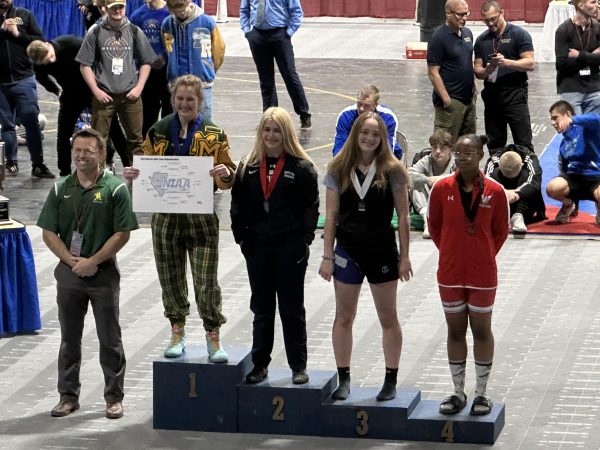 It's important, especially in sports, to have a true group of supporters. Even just the voice of a supporter cheering on in the crowd can push an athlete to work even harder than before. This plays a major role in the motivation found in athletes during competitions.
Coaching wrestling for 15 years, five being at Shadow Ridge, Coach Bradley Burton conveys, "I enjoy getting to be a part of the traditions established by the amazing coaches and athletes seen here in the past. Wrestling season is a grind. Our athletes shed a great deal of blood, sweat, and tears throughout the year. They are always there for each other, working to pick each other up and motivate one another at any moment."
With such a spectacular relationship shown among the wrestling team at Shadow, from coaches to wrestlers, this bond allows for great communication and cooperation, especially when it comes to competitions. Having this extra push can help to assist during these tournaments. Even just simply looking up and seeing a teammate or a coach cheering on can motivate an athlete to want to push harder, and go the extra mile.
Gledhill explains, "Having my coaches and teammates cheering for me at my matches and reminding me of the little things, like moves and breathing, really helps me. They also really help at practice, especially when I'm cutting, because they really know how to push me."