Jacobi Gledhill — Making History
Making it as Shadow Ridge's first female athlete to make her way up to the Nevada women's wrestling state championship tournament, sophomore, Jacobi Gledhill, has made Shadow Ridge history.
Placing second overall in the state championship, looking back, Gledhill explains, "I would say that placing higher than I did last year in state just shows my improvement over the past year, and I'm proud of how much strength I've built up. Though, I hope to improve on my shots and skills for next season."
In the milestones that she has achieved throughout this season, Gledhill expresses, "I felt proud, and a little disappointed, at the same time. I was a little disappointed, since I came so close to winning the state championship, but at the same time, I'm proud of myself for being the only girl to place at state," Gledhill continues. "I'm really happy that I got the chance to make my dad, and my coaches proud as well."
With assistance and understanding of coaches and teammates, Gledhill finds inspiration and motivation in those around her.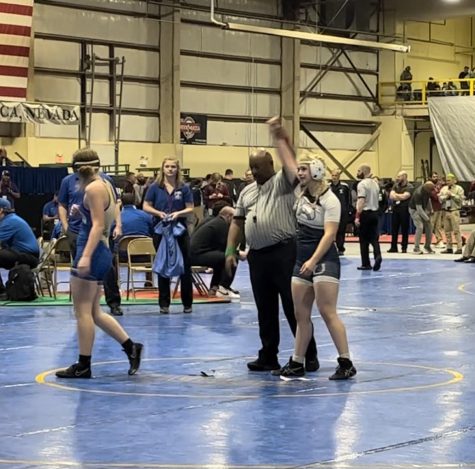 Placing so remarkably in the Nevada State Championships, Gledhill reflects on her 2023 career in women's wrestling.
"The constant support I get from my coaches and teammates has helped me constantly want to be better, and they are always pushing me during my matches, and at practice; which is just what I need," Gledhill says. "Next season, I'm looking forward to being a lot stronger than I was this season, and I'm also looking forward to meeting all of the newcomers, especially for the girls, since we want as many girls to join as possible."
Wrestling team coach, Agosto Gledhill, states, "Well, I hate her guts. No, I'm just kidding. She's my niece, and I want her to be successful. I think that I am much harder on her, since she's related to me. It's awesome to see her excel. She had a chance to win it all at the end, and I could not be more proud of her."
In proving everyone right with her determination and hard work, Gledhill brought her all to the state championship tournament; and, in hopes of returning next year, will only take learning and growth opportunities from all that she has accomplished this year.
"Hard work and dedication are incredibly important; and if you really want something, you can do it," Gledhill states.