Dosch On The Mats
Many find sports to be therapeutic and fun, sophomore Jacob Dosch is one of them. Dosch is a three sport athlete for Shadow Ridge High School participating in football, wrestling, and track. Dosch is an impressive athlete on every front. He began the season with JV but got moved up to varsity by the end, and threw for the Shadow Ridge Track and Field team. Dosch found his joy in wrestling freshman year. 
"I started to wrestle during my freshman year, I did it because I wanted to become better at football and my coach told me that would help me the most and be fun," says Dosch. 
For many wrestlers including Dosch, though it is tough it is a rewarding sport for them.  
"My favorite part of wrestling is being able to win and knowing that all the hard work I put in has paid off," says Dosch. 
Athletes find motivation in different places. Some come from family, some friends, and some themselves. Every athlete pushes themselves for different reasons. For Dosch, it comes from upholding his standards. 
"My motivation comes from my coaches and teammates and not wanting to let anybody down," says Dosch.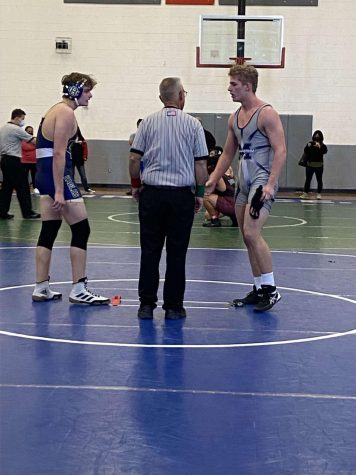 Many athletes face adversity on the road to triumph, Dosch is no exception facing injury. 
"I injured my lower back training," says Dosch. 
Many injuries occur while players are trying to train to improve at their sport, this is the case for Dosch.
"I injured my back while I was deadlifting and it worsened because I was playing football on it," Dosch adds. 
While injuries are a setback in any player's career Dosch is excited to get back though it will be later than he would like. 
"I do not have an exact date yet so I am not sure yet but I know I will be out for the rest of 2022," says Dosch. 
Through Dosch's impressive career, playing for his teams has been a big theme for him. As he recovers and makes his return to sports he is excited to get back with his team. 
"When I come back I can not wait to just wrestle and be with my team again," says Dosch. 
Dosch does not let injury hold his passion back.
"Even though I am injured I am excited to put in work and get back to where I was but hopefully even better," says Dosch. 
Shadow Ridge is excited anticipating Dosch's return and many more impressive matches from him. 
"
Prepare yourself wrestling is very hard but do not give up it will be worth it. "
— Jacob Dosch