With the beautiful colored leaves and the smell of the fresh fall air gracing Las Vegas, the local family-run pumpkin patch at Gilcrease Orchard is the perfect place to settle down for the day and enjoy these fall months, with a cup of apple cider in hand.
Gilcrease Orchard constantly has new themes and activities correlating with the time of year, as well as tons of new recipes and grown food to try out all year long! Located at 7800 N. Tenaya Way, Las Vegas, NV, this orchard is well-loved by the North Las Vegas community.
Junior, Lila Brough expresses, "There's actually a lot you can do at Gilcrease. I went just last week, and we picked out our pumpkins and grabbed some apple cider. I saw some people picking apples too, which seemed really fun!"
With so many options as far as activities, Gilcrease Orchard aims to keep visitors joyful, funding their seasons with friendly fun.
Brough conveys, "Honestly the environment is just amazing. The people there are so nice and the food is really great. I love going with friends and just messing around for the day."
This local orchard provides a safe space for those looking to just get out of the house and reconnect with friendly faces, making conversation and enjoying the fresh treats.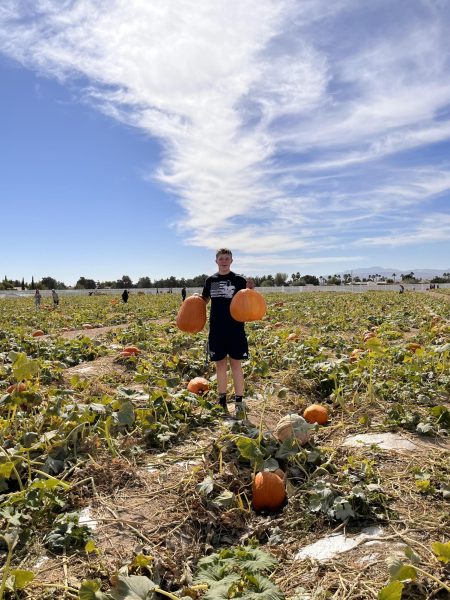 Junior, Madelyn May conveys, "I enjoy getting to eat some of the food there, like especially the cinnamon donuts. I also really enjoy finding my favorite pumpkin and getting to take it home."
Gilcrease Orchard supplies guests with a variety of delicious new recipes and treats, leaving visitors with a smile on their face. Their website includes some of the recipes shared, allowing visitors to try these delightful treats in the warmth of their own home. There are many different fruits and vegetables grown at Gilcrease, supplying visitors with freshly-grown staples. 
"It's really cool to see all of the pumpkins they grow there, and it's also fun to see all of the other fruit and other stuff they have," says May.
With such a homey sense, visitors feel welcome as soon as they step foot into this orchard, with spectacular service and a thriving familial feel.
Brough explains, "It was so much fun! The pumpkin patch was so cute, and since we don't really get seasons here, except for the occasional temperature drop, it never really feels like spooky season, but it really felt like fall all over there."