Every fall and spring, the Springs Preserve opens their Butterfly Habitat. The habitat allows visitors to go into an exhibit with butterflies that fly around freely. The workers announce the rules before visitors enter, while another worker stands inside, ready to answer any questions about the insects. Inside of the habitat there are several plants, a water fountain, and fruit dishes that keep the butterflies alive. 
Junior Liliana Arechiga explains, "Visiting the butterfly habitat with my family was a fun experience, I love seeing people's reactions as they walk in. I used to go to the Springs Preserve a lot when I was younger, but I like that this habitat is for all age groups."
Before going to the Springs Preserve, visitors can take a virtual tour online, and purchase their tickets as well. The Butterfly Habitat is open Thursday-Monday, 10 am-3pm, until November 20th. More information on the schedule can be found on the Springs Preserve website. 
The Butterfly Habitat has about 25 different butterfly species that visitors might see depending on the season. Some popular butterflies are the Painted Lady, Tropical Blue Wave, Gulf Fritillary, and the Banded Orange Longwing. As people walk through the habitat they can identify each butterfly using the guides inside. A full list of species can be found on the website along with informational videos about butterflies and what they like to eat.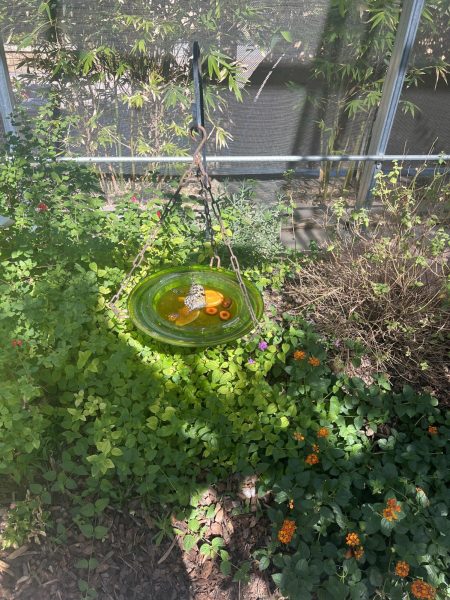 Junior Kaden Moya has never been to the Butterfly Habitat, but after looking at the Springs Preserve website, he would like to go before the season is over.
"I'm not really a big fan of butterflies, but this experience seems cool. I like how you're able to go in and physically be in the habitat with the butterflies rather than just looking at them from outside."
The Butterfly Habitat requires daily care including fresh fruit and care for the plants these insects feed on. The Springs Preserve has a YouTube channel where they answer commonly asked questions, celebrate holidays, and provide online tours.
To support the Springs Preserve, visitors can purchase a bench plaque that can double as a gift or a memorial for loved ones. These plaques have a butterfly symbol on them, and are placed on the front of the bench near the habitat. 
Arechiga continues, "I definitely think it's worth it to visit the Butterfly Habitat, it was a very unique experience for me and my family."