Springs Cafe
Looking for a new café? The Springs Preserve has just recently opened their new Springs Café according to What Now Las Vegas. The Springs Preserve has been open since June 2007, and for many years they had a café, Divine Café. After quarantine, the popular spot was forced to shut down, but now that it has been replaced with Springs Café, many members are excited to finally dine again.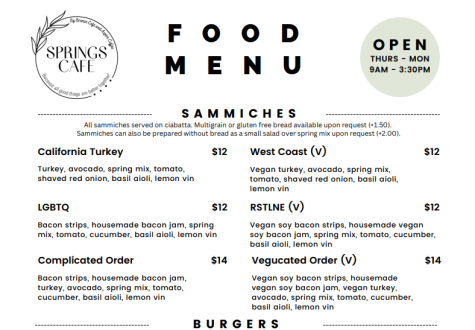 Sophomore Maya Rivas says, "The food on the website looks good. I would definitely hang out here with friends." 
On the Springs Cafe Tab, there is a short description of what their new spot is all about, along with some pictures showcasing their delicious food and even some YouTube shorts customers can watch. They have two links to access the food and beverage menu before paying a visit to the dining hall or the outside seating areas with gorgeous views of the strip.
Sophomore Maya Garay explains, "This is definitely a new restaurant I would like to check out. The food looks incredible and the views look just as great. Also, their "California Turkey Sammich" looks amazing. 
The café has gotten some recognition on their unique menu where they call sandwiches "Sammiches" and offer vegan, vegetarian, and gluten free options. The food menu also includes several other categories like burgers, salads, breakfast, and a kids menu. A breakfast dish that might stand out is their "Unicorn Waffle," which is a strawberry, pandan, and vanilla waffle with coconut ube dipping sauce. Unicorn Waffle's are available all day as well as the rest of the breakfast menu. 
Rivas continues, "I really like how they have breakfast all day, and that they are some-what allergy friendly."
With a tasty meal comes tasty beverages. The drink menu is separated as there are a plethora of options to choose from. From the coffee bar to smoothies and again, kid-friendly options, customers have a chance to decide how to quench their thirst.  Springs Café is open from Thursday to Monday, 9 AM- 3:30 PM, closing 30 minutes before the actual park does. There are no reservations required to sit down and have a meal with family and friends, and visitors do not have to pay for a ticket or membership to Springs Preserve unless they would like to explore the park after eating a fulfilling meal.