Being a part of Shadow Ridge's very own band since her sophomore year, junior, Cailyn Hartman, wows the crowd with both her immaculate leadership skills, and the remarkable connection she holds with her fellow bandmates.
Just this year, Hartman acquired the high role of drum major, leading the band into performance. 
Hartman explains, "My role as drum major is to lead and conduct the band. Leading the band, to me, means that I'm always there to help and give guidance, such as teaching new freshmen how to march. I'm there to conduct the band along with the other drum major to help keep everyone on time. So, in other words, my whole role is helping out."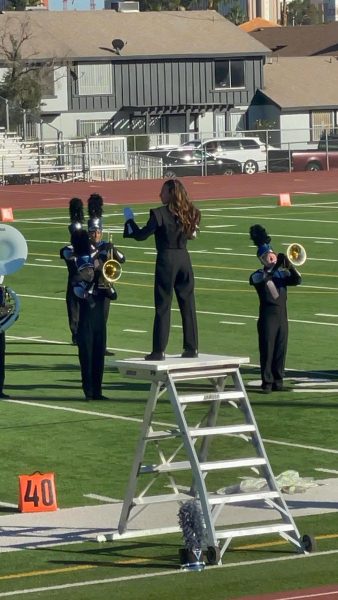 Playing such an important role in Shadow Ridge's band, Hartman works hard in order to assist her bandmates in performing their very best. In this, it's important to have a strong group of supporters to help encourage through every step of the way.
Hartman states, "I most enjoy spending time with all of my best friends at competitions and at football games. The vibes are immaculate, and everyone is always in a good mood."
This strong sense of community allows for an overall amazing experience, making for an exemplary performance.
"The teacher that supports me the most is the band director, Mr. Hartley. He's always there for me and encourages me to always do my best. He pushes me to always get better. Without him as my teacher, I wouldn't be where I am as drum major," Hartman conveys.
With such a supportive atmosphere shown within Shadow Ridge's band, both the band teacher and students work together in order to put on an amazing show.
Band teacher, Zacharey Hartley expresses, "Cailyn is one of the hardest working students we have at Shadow Ridge. She is someone who constantly strives to be better, not only for herself, but for the students that she leads. She has an enormous heart and cares a great deal for the culture of not only our band program, but the campus as a whole, which is demonstrated by her always looking for ways to become more involved in campus life."
Hartman constantly finds new ways to collaborate with her fellow bandmates and friends, as shown in her hard work in band performances. She utilizes her community of peers in order to improve her performance both on and off the podium.
Hartman says, "I feel that my friends help me perform my best by always showing up and helping me out. My friends are very understanding of my busy schedule, and they come to all of the concerts and performances that we have."