Bops with Band
On May 2nd Shadow Ridge's Band had their very own end of the year concert. Everyone played amazingly! Jazz band played, "Pennsylvania 6-500,"  "Africa," "Mambo Swing," "A Few Good Men," "LeapFrog," "I Wanna Be Like You," and "Crunchy Frog." The Small Ensembles played, "We are the Flyest." The Symphony Orchestra played, "Pirates of the Caribbean." Percussion ensemble played, "Drums and Stuff," and "Under the Sea." Lastly, SRHS Band played, "Carnaval de Brasil," "Whiteleaf Hill," "Fire," "Hold My Hand," Music from the Incredibles, and "The Mansions of the Lord." 
Junior Blake Eecklor has played the flute for six years and the piccolo for three years. She explains that playing in front of a crowd can be nerve wracking, but it has been a great experience for her.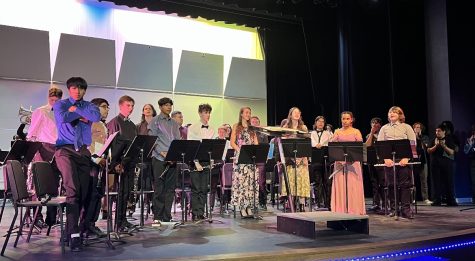 It gives her and the group an amazing opportunity to showcase how they have progressed. Eecklor also expresses that she really liked the songs that they performed.
"My favorite song was either 'Pirates of the Caribbean' or 'Incredibles'," Eecklor states.
I loved Pirates because we had the opportunity to play it as a symphonic orchestra and the arrangement was beautiful. I loved Incredibles because it was just a really fun and exciting piece to play."
Raul Flores, a junior, has played the clarinet for five years now, his favorite thing about it is that he gets to say that he is Squidward. Flores conducted for the first time during this concert. During the song "Hold My Hand" he was able to lead the band, this was also his favorite song during the concert. Flores states that band has truly helped him become a better musician.
"…it has given me a lot of opportunities to play in different honor bands, and especially with Mr. Hartley. He has been able to teach and guide me a lot in the time he's been here," Flores stated.
Junior Jayden Anacleto plays the trombone and the baritone saxophone.
He is also starting to conduct in front of the podium. Anacleto started playing the trombone in eighth grade, around four years, and his favorite part about playing is creating the music. He states that it is a lot of fun and connects the ensemble and everyone watching which is why he loves playing so much. Anacleto also states that playing at Shadow Ridge has helped him.
  "I feel the Shadow Ridge program has helped me immensely as a musician. I feel like without everyone here who has helped me throughout, I wouldn't be nearly as good or passionate as I am now. From my band teacher to the band aide to the other teachers in the music program, I feel like they've all helped me get to where I am," Anacleto explains. "Especially to the current band teacher Mr. Hartley. Last year when I heard that there was going to be a new teacher this year, I was scared but he has been such an amazing teacher and mentor for me and has helped me grow so much."