After the worldwide phenomenon that was Elvis (2022), distinguished director Sofia Coppola took on the responsibility of sharing Priscilla Presley's side of the story. The film is based on Priscilla Presley's biography Elvis and Me written in 1985, and produced by A24. The film premiered at Venice Film Festival in early September and its first trailer was just released. Despite Elvis' estate not being too happy with the film, calling the writing and direction from Coppola "horrible" according to TMZ,  Presley herself has spoken highly of the movie saying, "Sofia did an amazing job. She did her homework."
Coppola is best known for her films, The Virgin Suicides, Lost In Translation, and Marie Antoinette and she follows  her legendary dad's, Francis Ford Coppola, director of The Godfather, Apocalypse Now, and The Outsiders, footsteps. Coppola has racked up many prestigious awards including an Oscar for Best Original Screenplay for Lost In Translation. Coppola has garnered a huge following mainly consisting of young girls. Coppola has a way of representing the way many teenage girls feel in real life, on screen. Coppola acts as a vessel for young girls everywhere who haven't found representation like this anywhere else.
"Sofia Coppola is able to depict the frustrations and desires of these characters in a way that makes for engaging and yet oddly comforting cinema," says Raidah Islam from Unpublished Magazine.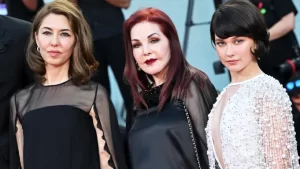 Similarly to Coppola's past features, Priscilla is "soft and muted" as Indiewire puts it. The film really shows Pricilla's side of the story and focuses on her emotions as a girl as young as 12, to a woman in her 20s navigating the dazzling life of Elvis Presley. The film has already garnered a 95% on Rotten Tomatoes and many 5-star reviews, even Rolling Stone calling it Coppola's best film yet. 
The title role is played by Cailee Spaeny who is best known for the show Mare of Eastown and is applauded for her work in portraying the iconic Priscilla alongside Jacob Elordi, known for Euphoria and The Kissing Booth, as Elvis. The official trailer was released on October 3rd and has gained hundreds of thousands of views in just four hours. The film is set to release in theatres on November 3rd of this year.