Ever since the construction of Formula 1 started down on the Las Vegas strip, the traffic and crowds have severely increased. Formula 1 is an international racing contest where drivers travel at speeds up to 212 mph around a race track. The Las Vegas Strip is currently under construction to prepare for the race that is set November 16-18. Formula 1 has not been to Vegas since the 1980s, so this is a big change for everyone. On the official website, Formula 1 answers a lot of popular questions about their racing process and how the road work is going down on the strip. 
Junior Cole Johansen explains, "I think that the Formula 1 racing is a good concept but I know the Strip is going to be so packed on the race days. It makes me wonder if all of this construction is worth it."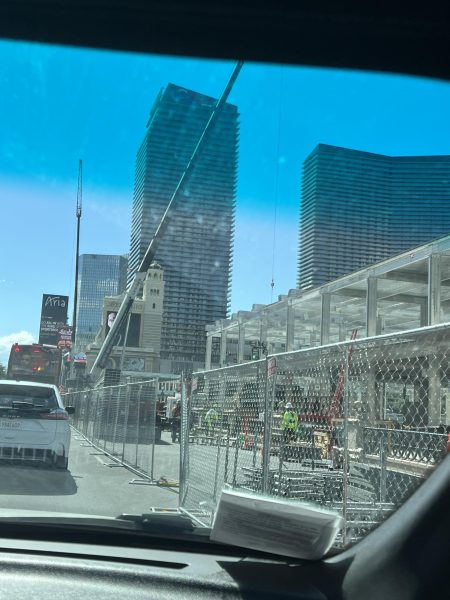 According to Construction Dive, the Grand Prix cost $560 million to build. A paddock building is under construction near the strip to track the race. The track is 3.8 miles long and goes around popular hotels like the ARIA and the Bellagio. Many roadways and several hotels will be closed on race days to ensure the safety of travelers. 
Junior Isabella Zane says, "I think the idea of bringing Formula 1 to the Las Vegas Strip is insane but the race will be interesting to watch."
Formula 1 is offering many different ticket options for people who would like to watch the race. From admissions in the new Las Vegas Sphere to grandstand spectator seats, prices range from $2,000-$11,000 depending on the area. Revamping the strip includes taking out trees and even removing statues. Caesars Palace has demolished their Roman-themed statue to make room for the race. The Las Vegas Review Journal says, "The trees are being taken out to improve sight lines for the grandstands planned to be built over the fountains for the inaugural race weekend scheduled for Nov. 16-18." 
Johansen continues, "I am just happy that this construction is only a one time thing because it is really hard to get around the strip right now. I am excited to see how the race goes, but it is weird to see so many things being taken out just for the sake of this race."
To add on to their profit, Formula 1 is currently selling merchandise including shirts and collectibles in support of their race.  Each race will last about 90 minutes if there are no disruptions. More information on the race can be found on their website. 
Courtesy of F1 Las Vegas YouTube