Every year, the Super Bowl is one of, if not the most viewed event of the year. Not only because of the exciting football, rivalries and championships but also because of its iconic Super Bowl HalfTime Show. This year, Apple Music will sponsor its second Halftime show, after last year's iconic Rihanna performance. Apple Music, ROC Nation, and the NFL announced on the 24th that the 2024 performer would be Usher which will be held locally, at Allegiant Stadium.
"It's an honor of a lifetime to finally check a Super Bowl performance off my bucket list. I can't wait to bring the world a show unlike anything else they've seen from me before," said Usher. "Thank you to the fans and everyone who made this opportunity happen. I'll see you real soon."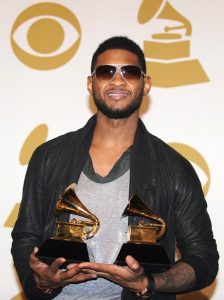 Usher is an icon of the R&B genre and he kick started his career by releasing his self-titled debut album in 1994. In the late '90s and early '00s was when Usher solidified himself as one of the best artists of the era. He had 4 Hot 100 number one singles, which include classics like Yeah!, My Boo, Burn and Confessions Part II. He has earned the title of King of R&B by multiple outlets and a international superstar with 80 million records sold internationally which makes him one of the best selling musical artists of all time.
The performance was announced through several videos via Apple Music. Each featuring a young Usher, from the Confessions Part II music video, on the phone with celebrities like Marshawn Lynch, Kim Kardashian and even, his future self calling to tell him he is going to be performing at the halftime show.
Recently, the NFL has been gaining way more traction. In addition to the halftime show announcement, Kansas City Chiefs tight end Travis Kelce and singer Taylor Swift have been fueling romance rumors between the two. Kelce's jersey saw a 400% spike in sales after Swift was seen at a Chiefs game. In addition Ushers music saw a 16% spike in streams since the announcements.
The Super Bowl game will be held February 11th, 2024 at Las Vegas' very own Allegiant Stadium. "Being named a Super Bowl host city is a defining moment in the history of Las Vegas," said Steve Hill, CEO and president of the LVCVA. "An event of this magnitude combined with the energy of Las Vegas is going to be unmatched. Our entire city is committed to making Super Bowl LVIII the most electrifying sports spectacle ever. The NFL has been an incredible partner, and we look forward to working with their team, the Host Committee and our partners across our destination to showcase Las Vegas as 'The Greatest Arena on Earth'."