After winning state last year, Shadow Ridge's tennis athletes have been working harder than ever, now that they've moved up to 5A. These Mustangs are coming back, determined to play better than ever before, and ready for their best year yet!
Playing tennis at Shadow for the past three years, junior, Ava Stosich expresses, "I enjoy getting to be around my teammates, because they make being on the team so much more fun."
Having an enjoyable team of fellow players makes playing a sport all the more fun. This sense of community within a sports team is essential in creating such a memorable experience.
Junior, Kelsey Barney, playing tennis for three years explains, "I find that my teammates lift me up, and always keep me positive, and my coaches help me to work harder."
This team of Mustangs shares a remarkable bond, as they work together to get the win. Last year, they left their mark on the 2022 season, as Nevada State Champions.
"It is really exciting to get to move up to 5A this year, and we definitely have better competition this season, which is why I have to work even harder," Barney states.
Claiming the State Championship title last year in tennis was a huge accomplishment for Shadow Ridge athletics. Now that the team has moved up to 5A, they've found this season to be even more competitive, challenging them to work even harder.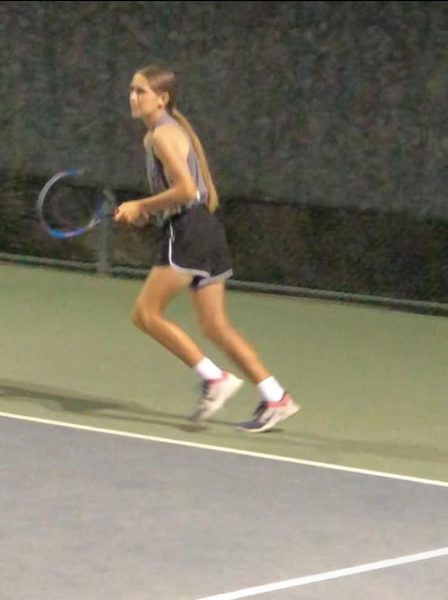 "Now that we're going into another season after winning state, and moving up to 5A, this made me really excited for the new challenge to be able to play against more experienced teams," Stosich claims.
This season, with a higher ranking than before, the team is working together to face this new challenge.
Coaching tennis for Shadow Ridge for two years now, Coach Lisa Bishop states, "I personally enjoy getting to watch my athletes excel, both on and off the tennis court. They have worked extremely hard to get to where they are now, and they still continue to impress me every day."
These Mustangs are amazing at what they do, with dedication like no other. They are not only determined, but they build each other up, and work together to get the job done.
"I get to witness the support of this team, as they practice together constantly, on and off the court. The doubles teams are also having to constantly encourage each other, in order to be more successful in winning their match," Coach Bishop says.
With an amazing support system behind this team, these athletes cooperate, and combine ideas, making for an extraordinary relationship among each and every athlete.
Stosich conveys, "I find inspiration to do my best in my teammates, because they are always encouraging me to play to my fullest potential. They've all been playing longer than I have, and they push me to overcome any obstacle."