Racking up the Scores for Regionals
This year, the Shadow Ridge tennis team has made it to State regionals. They have had a fantastic year and are hoping to win the state championship. The girl's team has had a 17-1 season while the boys have stayed undefeated. 
Senior, Samuel Roe states, "Staying extremely confident and trusting in not only my team's ability to succeed, but my individual ability as well can help us win state this year." 
This is not Roe's first time making it to regionals as he has been playing tennis at Shadow all four years. Although Savanna McDow, sophomore, has had a different experience.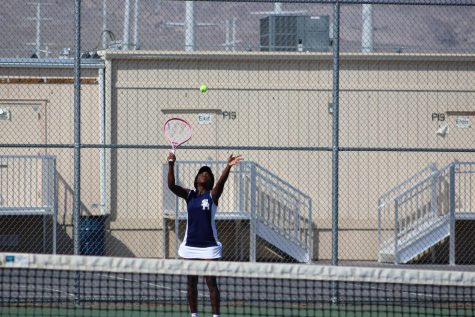 "This is my first year playing tennis in general and on an actual team," she says. "The experiences I have already had are preparing me to go into regionals with an open mind and determination to win."
It is an exciting opportunity for individuals and teams alike. This year there has been great effort put forth from the whole team. 
Roe stated, "I think staying focused and supporting one another will help us win state this year."
It is important for everyone to stay united and act as a team to have the drive to win. Having motivation and never giving up is a skill that each individual player needs.
"I think we have a chance if everyone puts forth the same effort and accountability to actually win," McDow states in agreement with Roe.
Even with how well the team has been doing this year, there have been challenges. No matter how many good days there are while playing, there are the bad days as well. Learning the sport and skills that come with it is never easy.
Roe says, "Doing hard work, especially when I didn't feel like it, has been the biggest challenge."
It definitely has been a difficult journey but the teams have never given up. It has been so inspiring to see all of the hard work that has been put in and how far it is taking these individuals. 
McDow said, "New experiences and getting stronger in the places I was weak before has prepared me to go into regionals with an open mind and determination to win."
Having their minds set on a goal gives them a drive to make it all the way. There are also a lot of other things motivating them.
"Having my family and the ones that I care about the most supporting me gives me a reason to keep trying my hardest," says Roe. "Staying disciplined has also been the biggest help in making it this far."
McDow also stays inspired by her family members, especially her sister.
She says, "My oldest sister Vanessa played tennis at Shadow all 4 years of high school so she has taught me how to play and all the tricks she knows."
It is important to find the things that encourage you to keep pursuing your dreams. The whole team has had a big impact on how well the season is going. It is exciting to see how far they have come and lets hope to see a win in the state championship.