Flag Football is making a strong comeback this year, working harder than ever to hold their state championship title for the third year in a row. With intramurals, and tryouts right around the corner, this year's athletes are locked in, and ready for what's to come.
Junior, Savanna McDow, states, "I played for the first time during my sophomore year, and I'll be trying out for the team again in November. I had an amazing time connecting with girls who were incredibly talented, and passionate about the sport, while developing many different skills along the way."
This supportive team of Mustangs never fails to cooperate with one another, always coming together in the end, and working together to get the win. Cheering each other on, these athletes act as one, supporting each player like no other.
"I enjoy getting to be more active in the school community, and being a part of a big football family. Shadow Ridge is very dedicated to its sports programs, and I'm happy to be coached by some of the most devoted people who always have our best intent in mind," says McDow.
The sports hosted here at Shadow hold some of the most supportive teams out there, with athletes who share a special bond, held together by the sport that they love.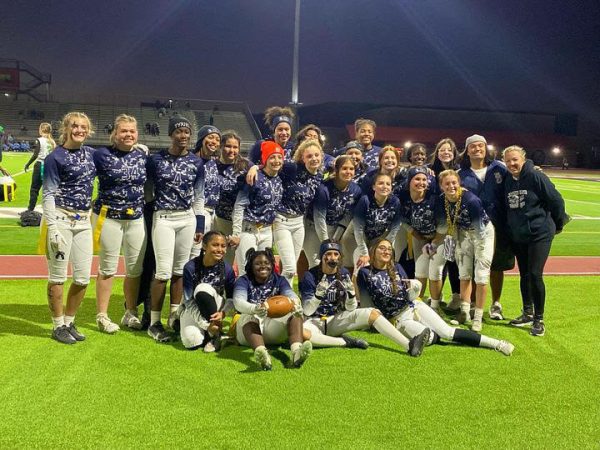 Coaching flag football for the past nine years, Coach Erik Pack explains, "My role is to develop each athlete to excel to the best of their ability. Nothing gets me more hyped up than learning that one of our athletes has received a scholarship offer. When athletes demonstrate the skills they have mastered from drills in gametime situations, it makes me feel proud." Coach Pack adds, "We expect a lot from our athletes, but they always rise to the occasion. They impress me every year."
Every year, with new athletes joining the team, this team welcomes and supports newcomers, helping them to reach their full potential.
McDow conveys, "This year, I look forward to getting to meet more people, learning new positions and skills on the field, and making the most out of my junior year."
Holding a special connection within each team is essential in maintaining an encouraging atmosphere, uplifting each member to perform their very best.
Coach Pack expresses, "The memories I have of previous seasons are wonderful, but what I enjoy the most is the bonds that I have formed with the players. I am grateful that I get to witness them grow and develop towards adulthood, not just as athletes, but as scholars and citizens. I always hope that I have some sort of positive impact on their growth and development, and that they will cherish their memories of being a part of Shadow's flag football program, as much as I do."