Volleyball players at Shadow have been serving it up on the court this year. Starting the school year off, they have been hard at work, supporting the success of the 2023 season.
Playing volleyball for six years, junior, Madi Miller explains, "My teammates definitely help me to do my best, because they lift my attitude with their goofiness, always hype me up, and they make me feel loved and appreciated! They really help me both on and off the court."
Having the support of teammates can help to boost confidence on the court, and also help to get rid of some of those pre-game jitters. Maintaining a strong support group, especially within a sports team, is essential in success.
Miller states, "I enjoy when all of the hard work pays off in games. I think that practices and reps can be rough, but when you get that perfect set or kill, it all becomes so worth it, and it's so enjoyable! I also love my girls, of course, and being around them is super fun!"
Persevering through learning a tough skill can be incredibly rewarding, especially when everything falls into place, and contributes to achieving goals, even when part of a team.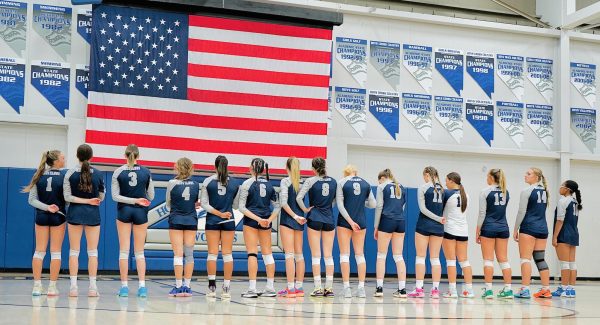 Senior, Desirae Knoble, playing volleyball for seven years, says, "I love the atmosphere that comes with being on the team, as well as cheering with, and for my teammates, and the celebration for when we win our games in the crowd."
Having a steady, supportive team, as well as an excited crowd, can fuel the determination to perform even better on the court.
Coaching the team since 2005, Coach Josephine Makaiwi expresses, "The desire to share my love and passion for this sport with others keeps me motivated to coach all throughout these years. I am constantly trying to learn, and grow with the game, and being able to share that keeps me motivated. What I enjoy the most about coaching for Shadow is the relationships that I have gained and built with the athletes, and their families, even after they have left the program." Coach Makaiwi adds, "We always hope that our athletes leave our program with positive experiences, and lasting memories. This program isn't for everyone, but if they could leave here taking something out of it, that makes us happy!"
This extraordinary program provides, ideally, the opportunity to be part of a group of girls, who come together to create something truly remarkable.
Coach Makaiwi conveys, "Shadow Ridge women's volleyball has had some amazing athletes and individuals come out of the program, and we are always so proud of them! The support has never stopped there."