Men's Volleyball 2023
Men's Volleyball is right around the corner and Shadow Ridge is excited. The team is coming off a hot season by bringing home a state championship last year. That was Shadow Ridge's third ring and they are looking to get another. 
"It's going to be tough, other teams are looking very scary this year and we lost some really good players last season," says sophomore at Shadow Ridge, Landon Larsen.
Four seniors graduated last year, which was a huge loss for the team but the team is still looking strong with a lot of great players. 
The team also has great coaches with Coach Wilson at head coach and AJ Makaiwi taking over as the assistant coach. Makaiwi played for Shadow Ridge and was very successful in the men's program. Makaiwi was a previous JV coach, he and Coach Wilson have worked together at Shadow Ridge bringing much success to the men's volleyball program.
"The program looks great as a whole, we have amazing coaches and returning players who look ready and refined," says junior, Jake Gonzalez.
The returning players from last year include seniors, Tyler Kirk, Brady Beko, Noah Barrus, Rider Fernandez, and Caleb Fisher; they are experienced and ready to make the program proud.  All these players played big roles in the State Championship victory and are expected to be leaders who implement a solid foundation in the Shadow Ridge system.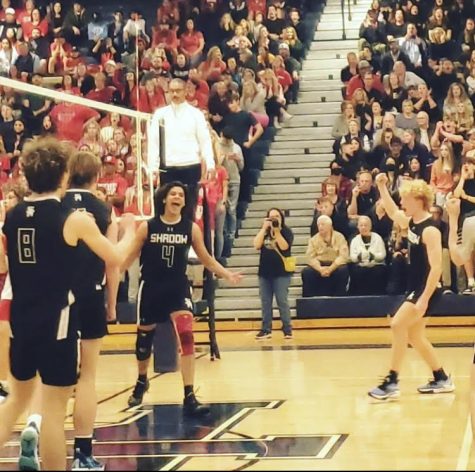 "Other schools like Arbor, Palo, Coronado, and Centennial are looking pretty strong with some very good players who may be a problem," explains sophomore Ethan Fisher.
Arbor View looks very exciting to watch this year especially with up and coming players who are just getting started. Arbor View, Shadow Ridge's rival, has been struggling these past couple seasons but this season and the next few seasons look very promising for the Aggies.
"I am extremely excited to watch some of the matchups this season between some of our rivals" sophomore Lauryn Belt states, "My favorite games last season were the games between Palo and Coronado. They were so thrilling and were never boring."
Shadow Ridge students were hyped for these games last season. Shadow Ridge played Palo Verde 3 times last season winning once at home but losing once at the end of the season. The Mustangs went into the playoffs and won the Quarter Final to go to the Semi-Final against Palo. It was a great game but Shadow Ridge came out on top. A thrilling game with packed stands was the peak of the season last year and everyone is excited for those types of games.
Cooper Bishop