After unheard of success of ex-Disney star Olivia Rodrigo's debut album SOUR, Rodrigo has come back with a no-skip sophomore album GUTS. SOUR still has massive popularity along with its many, many awards, including a Grammy. Along with the worldwide superstardom she went on a sold-out world tour. While many Olivia fans, officially called Livies, were confident her second album would be just as stellar as SOUR during its writing, Rodrigo wasn't as sure. The now 20-year-old was scared that her relatability was the reason for SOUR's success.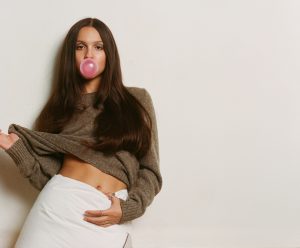 "I kind of freaked out this time being like, 'Oh my god, I don't have this 17-year-old heartbreak that everyone's had, My life is different now," Rodrigo explains in conversation with Phoebe Bridgers for Interview Magazine.
Despite this, GUTS is already receiving international praise, with outlets like Rolling Stone giving it a 100/100 and calling it an "instant classic."
The first single of GUTS, Vampire, was released back in June when Rodrigo announced GUTS via Instagram. The single debuted #1 on global charts which is her 3rd #1 of her career, at only 20 years old. The second single, Bad Idea Right?, was released in August and peaked at number 10 on the Billboard Hot 100. 
I just think it's an interesting word. People use it in so many interesting contexts, like 'Spill your guts'. 'Hate your guts'. It means bravery, but it also means intuition, like listen to your gut.
— Olivia Rodrigo
GUTS, musically is similar to SOUR, but lyrically and emotionally, they are completely different.
"It's, I think, a little rockier than SOUR, definitely a lot happier," Rodrigo explains.
GUTS shows many pop-punk influences in songs like Get Him Back! and a ballad of a homeschooled girl while other tracks like Making the Bed and The Grudge are more piano-driven. Though different sounding, Rodrigo explains that the album's whole theme is growing pains, which can be heard in lyrics like "They tell me that they love me like I'm some tourist attraction/They're changin' my machinery and I just let it happen/I got the things I wanted, it's just not what I imagined," from Making the Bed.
Rodrigo directly connects GUTS to SOUR in the song teenage dream. "Got your whole life ahead of you, you're only nineteen/And I'm sorry that I couldn't always be your teenage dream" which connects to brutal "And I'm so sick of seventeen, and I'm over this teenage dream."
Track 8, Get Him Back! is projected to be the next single off this record. Many fans are sure this album will do just as, if not better, than SOUR. Fans also speculate that a tour announcement is in the near future.