Ever since October of 2018 when the Barbie movie was announced to be directed by Greta Gerwig and co-written by her husband Noah Baumbach, audiences were ecstatic. Since then, there has been major hype around the film, especially since it was announced to release July 21, 2023 the same day as Christopher Nolan's blockbuster Oppenheimer. Despite the fans' plans to go see both films the same day, dubbing July 21st Barbenheimer Day, Barbie is the movie that gained the most money. Barbie reached $1 Billion 17 dollars after its release. Barbie is the first movie directed by a woman to hit $1 billion in the box office. 
It was a long road to get Barbie to where it is today. A Barbie movie was actually originally announced by Universal Studios in 2009 and when production started in 2014, the rights were acquired by Sony with many candidates for Barbie herself like Amy Schumer and Anne Hathaway. The cast was announced in 2022 with Margot Robbie as Stereotypical Barbie and Ryan Gosling as Ken with other actors like America Ferrara, Will Ferrell, Kate McKinnon and more. 
Barbie's plot follows Robbie's Barbie in Barbieland, with all of her Barbie friends and all of the Kens having perfect days everyday. Life is seemingly perfect, until Barbie starts to feel off. Having thoughts of death and having flat feet, Barbie is forced to go to the real world to discover what's been happening to her.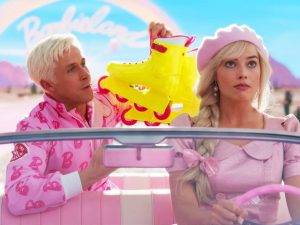 Barbie debuted with a 88% on Rotten Tomatoes and became an international sensation on the internet. People, mainly young girls, saw this as an opportunity for girls to get together to celebrate the movie. Theaters across the world were filled with people dressed in all pink to see Barbie. The Barbie hashtag on TikTok currently has 77.4 billion views. Something that also garnered viewers attention was the soundtrack which features musicians like Dua Lipa, Lizzo, Billie Eilish, Ice Spice and many more stars. 
 "The Barbie movie was something I was looking forward to since it got announced, since I thought it was an obvious idea for a good movie and it definitely didn't disappoint," says senior Diego Martinez
Due to the great movie marketing, star cast and worldwide enthusiasm for the film, Barbie has made $1 billion, and counting. 
I think I told them they'd make a billion dollars which, maybe I was overselling, but we had a movie to make!
— Margot Robbie