Journalism: The Place To Be
From writing intriguing articles, to interacting more with the community at Shadow Ridge, journalism is the perfect outlet for creativity, and deeper connections with others. 
Sophomore, Karissa Murdoch, says, "I love journalism. It's a fun way to end my school days. I've made so many amazing friends in that class, and I love the sense of accomplishment that comes from when I finish an article. It's also been fun getting my friends involved, as well as learning more about the people around school. I'm so glad to be a part of the Shadow Ridge Lariat family."
Writing articles for Shadow Ridge provides ways to incorporate daily life from Shadow, into writing creative pieces to publish for the Lariat.
Sophomore, Carlee Stuart, explains, "I have absolutely loved being able to participate in journalism. It's a great way to know what's going on around Shadow Ridge. Mrs. Smith is also an amazing teacher, and I have loved the friends I've made in class."
Being in journalism allows for students to interact with classmates, forming bonds like no other. The constant support that comes from everyone in this class separates it from all others, and makes it beyond incredible to be part of.
Lila Brough, sophomore, expresses, "Journalism is so amazing, and I love the people, and getting to be able to learn more about my school. Mrs. Smith is super awesome, and really has a hand in our education. She has helped me to become confident with writing larger pieces, when I have struggled doing so in the past. Journalism also gave me the opportunity to go around, and talk to people with different perspectives and ideas."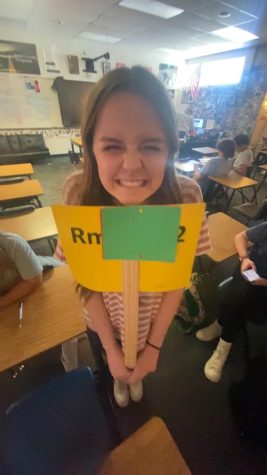 With the extra push to write more established pieces, Mrs. Smith inspires students to go the extra mile, and put their all into their work. In this, it's important to stay on top of everything, in order to not fall behind, with tons of articles to write.
"Always stay on top of your articles, and reach out to the people that you wouldn't normally. From my experience, it's really easy to fall behind, so definitely don't forget about your homework," Brough conveys.
Stuart states, "I would say that staying on top of your work is really important in this class. It can be a lot, but it doesn't take long to write an article. That will put you on Mrs. Smith's good side, making the class so much fun, and pretty chill."
Foreign exchange student, junior, Chloe Reoyo, states, "Journalism is the best class to be in, if you want to gain both confidence, and friends. Everyone in this class is so nice and welcoming, and you will make a lot of friends. You'll also get the chance to talk to a lot of people to get quotes, so you'll meet so many new people. The best part of the class is the teacher, she is always willing to help, and loves each and every one of her students."