Ed Sheeran's Subtract: An Album Written Through Grief
With the release of his first album "Plus" on September 9, 2011 Ed Sheeran's popularity has skyrocketed in the past 12 years. He started out playing clubs in his hometown of Suffolk, England, and soon turned to filming performances and songs to get the word out of his music. With the help of Jamal Edwards, his best friend, he uploaded these videos to SBTV, Edwards' music sharing website. It was then on this site that Sheeran was discovered by his record label Atlantic Records with the song "The A Team" and has released six studio albums since. 
Sophomore Maya Garay, a Sheeran fan through and through, expressed her love for him by saying, "Ed Sheeran is the greatest ginger of all time."
"
I LOVE ED SHEERAN!
— Maya Garay
Sheeran has sold over 150 million records worldwide and has played in over 40 countries. With his number 2 worldwide ranking, Sheeran seems to be the definition of success and true happiness in his profession. But things are not always as they seem. In 2022 alone, Sheeran dealt with his wife's cancer diagnosis while pregnant with their second child, the loss of his best friend, and the beginning of a long copyright lawsuit claiming he stole another's music. 
His way of dealing with these things, unlike many, is to write songs, a fitting pastime for one of the most successful songwriters of all time. After the devastating news of his wife Cherry's cancer, Sheeran spent the next four hours in their basement writing seven songs, some of which appear on his newest album "Subtract". 
In Sheeran's new Disney+ documentary titled "The Sum of It All," he describes the journey he took living through his grief. The film reveals the life he leads and the path he took to success while showing his humanity.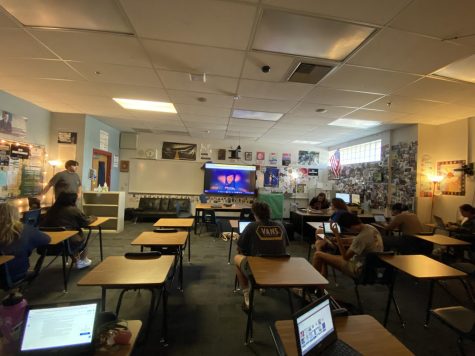 Paige Smith, Journalism and English teacher at Shadow Ridge High School, enjoyed watching Sheeran's life story and expressed the sense of reality it brought to him. 
"It just made him seem more human, like one of us because we all have struggles," Smith said. "He seems like he's somebody who is down to Earth and I loved the way he performed for everyone even in his hometown." 
Sheeran's new album "Subtract" also explores themes of grief and enduring through struggle. Smith, who has downloaded his album and listened to a few songs, is unsure of her feelings toward it. 
"I played it on my way home and listened to a few songs but haven't really connected to it yet. I was too busy trying to avoid people's road rage. I might need to listen to it more," Smith stated.