Las Vegas Ballpark
In the Shadow Ridge community, there are a lot of baseball fans and players. The Las Vegas Ballpark opened up in April 2019, and has been a popular attraction spot ever since then. Last week on May 10th, the Las Vegas Aviators played against the Albuquerque Isotopes, winning 5 to 3. 
Sophomore Preslee Lafreniere explains, "I went to the game last week with the Aviators and Isotopes, it was really fun. The ballpark has a grass spot where people can sit with their dogs, so my family and I always sit there. I think it is the best spot to sit because you can truly see everything." 
Lafreniere is right, many people sit in the grass area on the east side of the stadium to get a full view of the players and to watch the baseball closely when it goes out. Dogs are also allowed in the ballpark, so sitting in this grass area can provide comfort for families and their furry friends. 
Besides seating, the ballpark has several stores that sell merch and jerseys. Customers can purchase special jerseys that their favorite player has personally worn. These jerseys have the players last name and number on them, and come in many different colors. If this doesn't sound appealing, regular jerseys, long sleeves, hats, and more are available for guests to buy. 
Sophomore Maya Garay says, "I have been to the ballpark once. The food there is always so good and I love collecting jerseys and souvenirs. My favorite part has to be the waffle fries, they are amazing."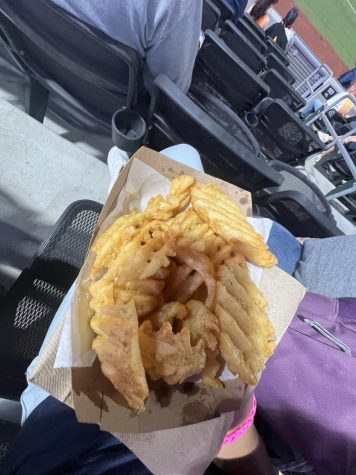 Other than stores to buy souvenirs, the LV Ballpark has food and drink bars for fans to indulge in. Entering the park, food stands are available right away. The first one at the top of the ramp has everything from burgers and fries to pretzels and popcorn. On the other side, there is a Mexican food stand, providing more options for food and drink. 
Lafreniere continues, "I really like the location of the ballpark too. It is so close to everything so it makes it really convenient. I like to go shopping at Downtown Summerlin a lot, and the ballpark is literally right next to it." 
During the games, the park hosts special 5-10 minute activities like races, dance competitions, and more. These happen on the field in between plays. There is also a guy in an aviator costume that can be found walking around the park. Guests can take pictures with him for free. 
"
The LV Ballpark is a great place to go with family and friends.
— Maya Garay
Tickets are available for the Las Vegas Ballpark in person or online on their website. A game schedule can be found online as well with more information about the park and how it works.