Sunset with Seniors
Senior Sunset took place on April 24th. Although it was not set on the 23rd for their last senior day, the class of 2023 still fell in love with the sunset. From sunrise to sunset, the seniors have been through so much. For many, senior year has been a bit tough. Finding motivation, getting used to a few expectations, and trying to enjoy their last year in the midst of all things about the future have all been a few struggles that the class of 2023–and most classes– go through. 
"The hardest part of senior year was the more challenging classes I chose to take," Violet Flanagan, senior, explains. "I really wanted to get into a good school so I took as many advanced classes as I could handle, and in hindsight, I've been much more stressed than my peers who took it easy senior year."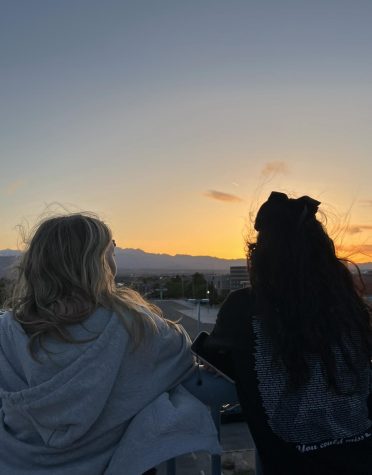 Flanagan has been accepted into Trinity College Dublin. It is the number one most prestigious school in Ireland and ranks 98th globally. Even as she expresses how it has been stressful, it seems as if the hard work has paid off. Flanagan's amazing accomplishments are what the heart of a Mustang truly carries. 
During Senior Sunset, Flanagan was left with a few things to reflect on and it may have led to a few emotions along the way. 
"I was a bit reminiscent as I looked at the sunset," Flanagan says. "Standing on the bleachers and being surrounded by friends made everything feel more real."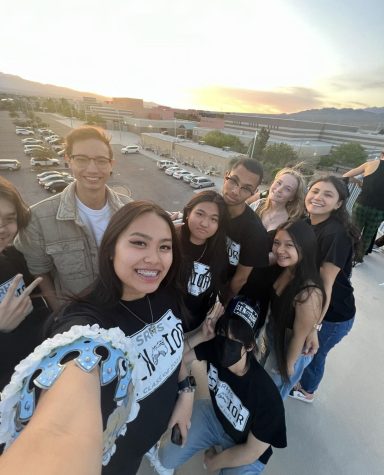 Throughout the event, seniors played games. Cornhole, soccer, catch, three-square, and even monkey in the middle made an appearance on the football field. In that, there were also many who took in the last few hues of orange from the sun as well as their senior year. With music playing and playful vibes all around, most seniors tried to feel like kids– just one more time before their futures truly starts. 
Sean Anderson, senior, attended senior sunset as well. With many senior events littered throughout the year, senior sunset started their week just right. 
"I really enjoyed [Senior Sunset]," he tells. "It gave me and many others one last event of our senior year to reminisce fondly on, and I'm grateful for that."