Taylor's Era
Ever since the musical artist, Taylor Swift, has announced her 2023 Era's Tour, fans have been overwhelmed with excitement! Her fan base's known community of "swifties" have managed to come through, and help to make this an experience to remember.
Sophomore, Aubrey Jaramillo, expresses, "It honestly felt like a fever dream. I could never imagine something so perfect. Being able to hear all of the songs that I have a memory of, or emotions attached to, was seriously the best thing I've ever experienced."
Growing up, listening to music by Swift, can really provide a sort of safe space to come back to as a reminder of all of these past memories.
"Everyone there had a good time, and no one had any complaints about the performance. It was a great experience overall, and it was truly amazing to know that everyone there mutually supported Taylor Swift," Jaramillo adds. "The part of the performance that I'll always remember was when she had fire coming out of the stage. It was all just such a surreal feeling."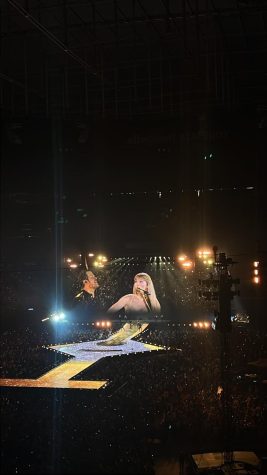 Swift has managed to build a wonderful community that supports both her and her music. Being such a widely known musical artist for so long has put together such an amazing group of people, who all genuinely love and enjoy her, and all that she puts out there.
Sophomore, Grace Marino, says, "Experiencing this all in person was really great, but it felt weird after listening to her music through the phone constantly. It felt odd, but in a good way, to be able to listen in person with the added choreography and props. The most memorable part was probably all of the props she had. It was all very crazy in how she was able to switch from one album to the next so smoothly."
Those attending this magical performance have gotten to experience childhood dreams, after growing up idolizing Swift. Her music is truly timeless, old and new.
Mariah Ruiz, sophomore, explains, "The most memorable moment in the performance was when she sang the song, 'Enchanted,' because I've loved that song for so long, and it was amazing to get to hear it live for the first time."