Senior Showcase
Shadow Ridge High School has an outstanding Theatre Department. From the writing and directing to putting it together and even up on stage there is a lot that goes on with putting on a show.
Theatre classes have been preparing for the showcase for a few months. Showcase is where all the upper level theatre students get together and show off what they have learned throughout the year.
Senior Katie Mae McDowell plays one of the main characters. She's been working on it since January and is very excited to show it off.
"
I love Mrs. Hartley and I love Ashlynne. I love the community because it is great and we are all very close with each other. It's very loving, open, welcoming, and there's always room to grow.
— Katie Mae McDowell
"The showcase is a story of 8 high school seniors getting together and playing one last game of Dungeons and Dragons together," McDowell states. "Their freshman year they were all super good friends and you know, they played Dungeons and Dragons all the time and then of course over the course of high school, there were break-ups, cheating, back stabs and so many other dramatic things that happened. Their senior year the DM, Daisy, who is also the character I play, decides she wants to get all the characters back together and play one last game of Dungeons and Dragons and it kind of unfolds. Can they still play this game even though all this stuff has happened between them?"
McDowell has been in theatre all four years of her high school experience. She loves it all and especially loves the theatre teacher, Mrs. Hartley.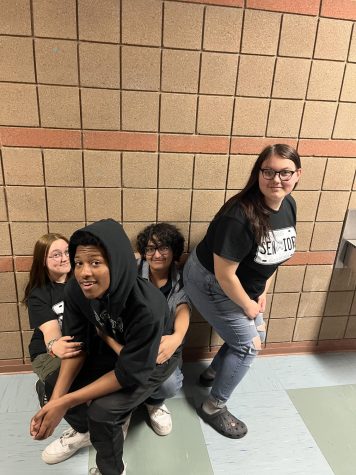 "I love theatre, I've always loved theatre, I loved it even more when Mrs. Hartley came because she's like a lot better than past educational presences we've had at Shadow Ridge," she says. "I feel like Mrs. Hartley really just nurtures us to become really good actors and techs so it makes it really enjoyable to be here. I'm very excited to show that to everyone."
Senior Myles Jones was Gomez Addams in the Addams Family play this year. He also really loves theatre and all of the people who are in it. Being in theatre is like a big family, and the group of people in it make it all the better.
"The growing love and support from the community that is in it is genuinely my favorite part," he states. "Also having directors like Ashlynne and Mrs. Hartley that really pushes you to do your best. They're like a second pair of parents and they're always trying their hardest to get you where they know you can get."