Key Club's Boba Fundraiser Comeback!
Shadow Ridge's Key Club is coming back with another boba fundraiser! They have only had one this year and are returning with their regular flavors on March 8th– the Wednesday right after ACT day. It will help calm students' nerves as the test must have been long and draining for all those that took it. 
The fundraiser will be in front of the cafeteria and will welcome a refreshing feeling with its cooling effect. Key Club has been waiting for warmer months to keep the sales for boba consistent and successful. Now that the cold has died down just a bit in the whirlwind of Las Vegas weather, it seemed to be the perfect time to sell boba again. 
"It'll help get the club more out there and involved with the school," Sean Anderson, a volunteer, explains. "It will also help with our funding of other projects."
They will be partnering with Sharetea once again. The flavors will be Original Milk Tea, Matcha Milk Tea, and Thai Milk Tea. All drinks will include tapioca pearls. Each flavor, though, has a limited amount for every lunch. It will be on a first-come-first-serve basis when they begin selling. 
"
We hope to leave the incoming board with a more solid foundation to work with.
— Paulane Tulop
Paulane Tulop is the current president of Key Club. They just held their elections and are currently working with the new board– allowing the club to flourish as spring comes. 
"With the new board, I hope that we are able to learn from our mistakes from the past two years," Tulop tells.
Planning the boba fundraiser has been a bit hectic but very productive as well.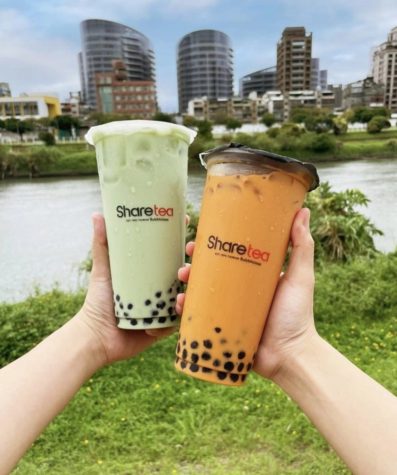 Nathan Nguyen is the club's treasurer-elect and has already started his job by signing checks and supervising expenses. 
"Being Key Club's treasurer so far has been a great experience being able to collaborate with other board members to plan out events and fundraising," Nguyen says. "Although I haven't been treasurer for long, I don't find it to be stressful. But as time goes on, more things will pile up. That's where things will get more difficult."
An overall goal for the club is to raise more funds to support service projects that will better the community as a whole. Key Club will start to host more events and hope to grow organically as well. To uphold their push for service, connecting with others, and becoming natural leaders, Key Club's presence at Shadow Ridge will have a lasting impact on the community- whether it be local or global.