Sharing is not so Caring: Netflix's Password Policy
Around six years ago Netflix tweeted, "Love is sharing a password." Since the release of the new password policy, Netflix has experienced quite a bit of backlash because of that comment. Netflix has explained that over a hundred million households are currently sharing their passwords which may inhibit their ability to invest and improve upon their company. Their solution to this problem is a new password policy. 
Netflix has tested this policy in Latin America and has informed the U.S. that they plan on dispersing out this policy more broadly over the coming months. 
"Our focus has been on giving members greater control over who can access their account," Netflix says in an explanation of their new policy.
In a CBS News article, "How will Netflix stop you from sharing your password," it states that to enforce Netflix's new policy they will use IP addresses, device IDs, and the users account activity from the devices that are signed into their account.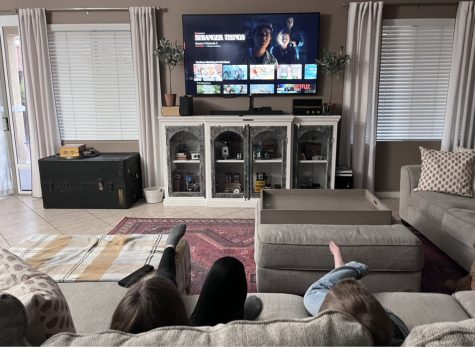 The article also explains that if an unknown device continually signs into a user's account from a location other than their home will have to be verified. A four digit code will be sent to the account's main email address or phone number. The unknown user will then have to submit that code within a fifteen minute period before they can use the account. 
Colby Partida, a senior at Shadow Ridge, states it is an invasion of privacy. He explains that Netflix shouldn't use IP addresses to track its users, just to uphold a certain policy. 
"It could also cause a lot of paranoia among customers over their information getting leaked or monitored," Partida stated.
How do you feel about the new password policy?
Sorry, there was an error loading this poll.
Netflix has addressed some confusion over what is considered a "household." The company has explained that some families have kids who go off to college or go on some sort of vacation but that those situations are very different than those who are using the account and have never lived there. To help ease users into this new policy Netflix has released new features that allow members to see all of the devices that use their account, this also allows users to log out certain devices attached to the account. 
In Chile, Peru, and Costa Rica Netflixs has created sub-memberships that members can add to their accounts. These sub-memberships are expected to be around $3 or $4 a month.
"…it seems smart in theory. I think it's better for Netflix, but not better for those who are sharing accounts," sophomore Kiersten Darrington states.