Love Again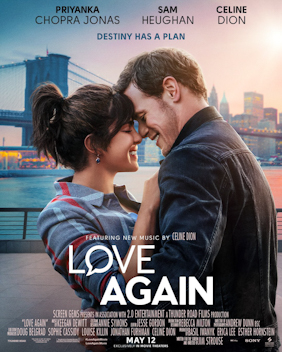 Premiering on May 12, 2023, "Love Again" starring Priyanka Chopra-Jonas, Sam Heughan, and Celine Dion tells the story of a grief-stricken woman, Mira Ray, who finds new love in the most unexpected of places. The film is an English-language remake of the 2016 German film "SMS für Dich," based on the 2009 novel by Sofie Cramer. Originally called "Text for You," the English translation of "SMS für Dich," Ray's cellphone leads her into the arms of a new man after all seems lost. 
What is your favorite Rom-Com?
Sorry, there was an error loading this poll.
Grieving the death of Ray's fiancé, she turns to him – or rather his cellphone – for comfort. Sending a string of heartbroken texts to his old phone number, Ray doesn't realize that the number has been taken by a new man, journalist Rob Burns. He enlists the help of A-list celebrity Celine Dion, his latest article subject, to find the woman and win her over.
As Dion's first ever movie, "It's All Coming Back to Me Now," one of her big hits, was one of many working titles for "Love Again." Dion is also said to be contributing new music to the movie. Along with contributing to the soundtrack of Ray and Burns' love story, Dion will be supporting Burns along the way. In the trailer for the movie, Dion can be heard saying, "Love has a plan for each and every one of us."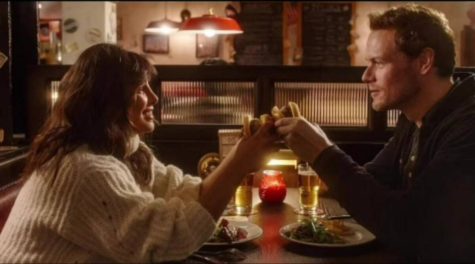 To People magazine, Dion described what a joy it was to star as herself in her first ever movie. "I had a lot of fun doing this movie," Dion said. "And to have the privilege of appearing with the beautiful and talented actors Priyanka Chopra and Sam Heughan in my very first feature film is a privilege that I will cherish forever."
Although on screen Chopra-Jonas will be in love with Heughan's character Burns, she is being supported throughout the film on and off screen by her husband, popular musician Nick Jonas. Playing the role of an unsettling first date two years after the death of Ray's husband, Jonas makes sure his short cameo is remembered.
CNN stated, "The singer appears in the back the of a taxi with a less-than-pleased-looking Chopra Jonas, awkwardly trying to make a move on her."
On Instagram, Jonas posted his own witty take on the car situation in comparison to his and Chopra-Jonas' real life love story. He captioned the post saying, "Glad our first date went better than this one @priyankachopra."