Outer Banks Season 3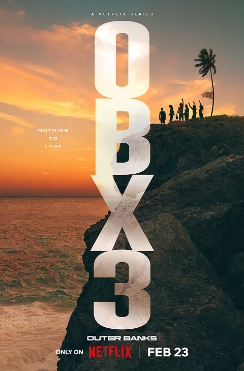 "Outer Banks," a Netflix original, is about a teenager named John B looking for treasure that corresponds to his father's disappearance. John B and his friends go on a long journey in search of answers and along the way they face villainous characters and amp challenges. Season 3 is finally being released on February 23, 2023. Fans have been waiting in anticipation since July of 2021 back when the second season was released. 
Sophomore Maya Garay, a fan since the very first season, cannot wait for the third to be released. 
"I absolutely cannot wait for the third season to come out, I know it is going to be great. I love all of the actors in this show." 
Actor Chase Stokes who plays John B in the show recently had a break up with Madelyn Cline, who plays as Sarah. Since these actors worked together since the first season, Cline told CBS 8, "Our job is to leave the show better than we found it, to leave the season better than we found it. And I'm really appreciative of that."
Despite any actor relations, the new season is said to have 10 episodes and lots of chemistry. According to Elle, "Creator and showrunner Jonas Pate has previously revealed that he envisions four or five seasons of the show in total." After a hectic and action-filled second season, there have been rumors that the third will calm down and resolve some arising issues. "Rest assured, an encore there almost certainly will be. As you rest your brain back from your OBX acid trip, here's a look toward the future—and everything we know about the Pogues' next chapter."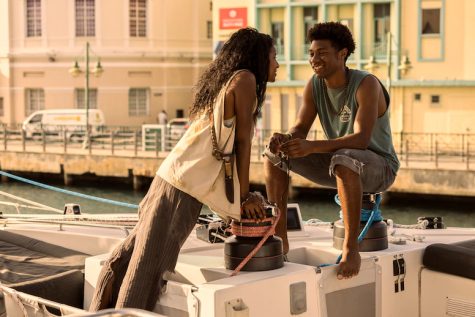 Junior Aliandra Rizo says, "I can't wait to see the new connections with everyone this season, last season definitely took a turn. I hope that the problems between John B and the other characters are solved, he needs to get his happy ending after all of this trauma."
Sophomore Preslee Lafreniere couldn't agree less.
"Personally I think that John B is stuck up, he thinks he's all that. He makes me cringe to be honest. I love Kiara and JJ though, they have to be some of my favorite characters."
Despite how people are reacting to the characters, there are a lot of predictions made by fans for what will happen in these new episodes. The end of this month is coming up quick, and the excitement is rising.