Sculpting at Shadow
Ceramics classes at Shadow Ridge bring aspects of both creativity and relaxation into the workshop; allowing students the opportunity to let loose and create whatever they may desire. Rather than enduring in the traditional school setting, this class offers an interactive and creative insight; with classes ranging from beginners to advanced.
Teaching ceramics classes at Shadow Ridge for five years now, Ms. Andrea Brackney finds that "clay can be very stress relieving; I often have students tell me that they find it relaxing. The class is very social, and allows students to talk while they work; which is not something that you can do in every class. For every project, I teach them how to build it, and then they bring their creativity to the table and design it how they want."
Sophomore, Olivia Burdette, explains, "I really enjoy getting the chance to work with my hands, and making a mess. It can be a really nice break from a more traditional school setting. I think that ceramics has really helped me to think both creatively, and outside of the box. I have to make smaller shapes, in order to create the bigger picture. I have to think about what shapes will work best together, in order to make the desired outcome."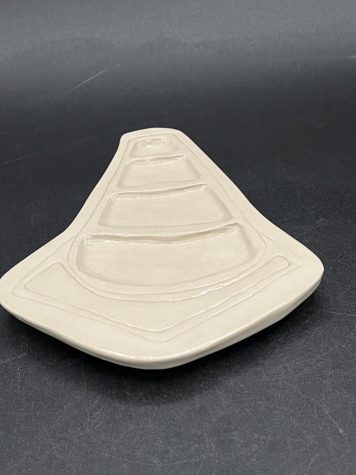 With all features of both exploring creative impulses and right of mind, this class ensures the opportunity of freedom in expressing ideas, and working to bring them to life. Those in ceramics find new ways in expressing the ideals of art through clay on a day to day basis.
"This class gives students an opportunity to work with their hands pretty much every day. Once having learned the foundations, they are able to create and build anything. Each project builds skills for the next project, and helps when moving on to more advanced ceramics focused classes."
From beginner to advanced students, those enrolled in this wondrous course find new experiences daily; allowing themselves to express their creativity in solid form. Everyone with their own ideas and inspiration, what can be created in ceramics welcomes endless possibilities.
Hayley Jones, sophomore, claims, "My best friend convinced me to try out ceramics. I have also always wanted to give it a shot, after seeing others do it in tv shows, and other places. I like being able to try new things, and getting the chance to experiment with different ways to do things. I also like getting to play with clay all of the time."