Ceramics Fundraiser: Kiln the Game!
Just as the weather gets colder, the holiday season nears. Ceramics is holding a fundraiser just in time for those who need gift ideas. They are selling ornaments for $10 each. The fundraiser lasts through the end of November and every ornament is made to order!
Ordering the ornaments is as simple as paying either in person to the banker or online using the Google Form.
Ms. Brackney, the Ceramics teacher, has been teaching at Shadow for five years and her excitement towards it has not seemed to fizzle out just yet. 
"I love [teaching Ceramics] very much," Brackney tells. "I love that I get to play with mud all day with my students and make creations with them every day!"
The fundraiser has an array of ornaments to choose from. Stemming from Nevada universities and even home sports teams, a lot of spirit is put into the ornaments. For the students and Brackney, coming up with ideas was the most difficult. Trying to incorporate all preferences while also keeping each one interesting enough for purchase was an interesting journey.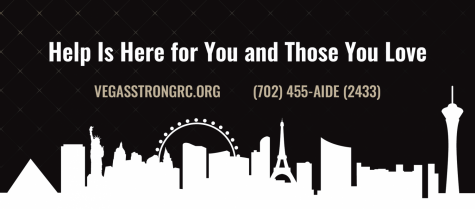 Even as all designs are special, the Vegas Strong ornament holds meaning especially. For each purchase of the Vegas Strong ornament, $5 is donated to the Vegas Strong Resilience Center. This foundation honors those who were affected by the Route 91 concert in 2017. The event still holds shock for many individuals and the Ceramics fundraiser hopes to show their support through the ornaments they have created. 
Creating each ornament is not an easy task, but there is no denying that it is fun for each person working on them. Clay is rolled out by the students and cookie cutters are then used to make the circle shape seen in the final products. Stamps are then used as well. Both the cookie cutters and stamps were designed by the Ceramics program using their 3D printer. Dried-up ornaments are then cleaned and put into the kiln once. After being glazed and colored, they are fired a second time. 
"
Making things in the clay room is always fun, not easy, but fun!"
— Ms. Brackney
Of course, these ornaments are not the only creations the Ceramics program has created. From sculptures and figurines, the shelves of the Ceramics room are filled with amazing artwork made by each student.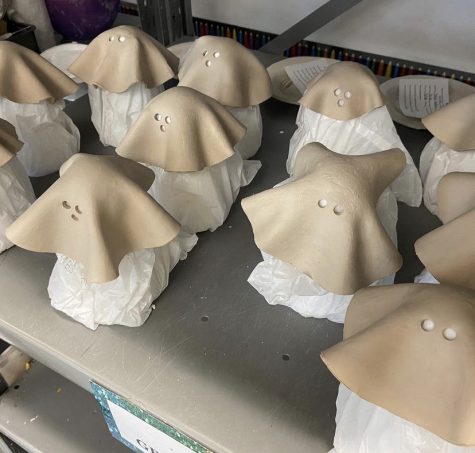 Some students share excitement toward the fundraiser. Seeing as Ceramics is not a typical class held by a high school, these creations are even rarer. Even students who are not a part of Ceramics have an appreciation for it.
"Ceramics seems like a really cool class, I'm glad that Shadow offers stuff like that for artistic people!" Violet Flanagan, junior, says.
Some favorites in the collection vary as well. While some love those that represent sports teams, others love seeing university logos as well.
"I like the design of the Mustang one! It looks like they put a lot of effort into all the ornaments," Flanagan shares.
There is no doubt that each ornament was made with care and joy. With each design created through a long process, the Ceramics Ornament Fundraiser has officially set off!