Up-and-Coming Newest Disney and Pixar Movie: Elemental!
Many people are excited whenever Disney and Pixar have a new movie to bring to theaters. People especially being enjoy laughing with their friends and family at all of the funny and amazing characters. Disney and Pixar are introducing some new characters to screen on June 16th, 2023 with their upcoming movie "Elemental," and while there is limited information on the movie, Disney has revealed the trailer and a synopsis for the movie during their D23 expo showing the two main characters Wade and Ember. 

Video courtesy of Youtube

"Disney and Pixar's "Elemental" is an all-new, original feature film set in Element City, where fire-, water-, land- and air residents live together." According to the Disney movie website, "The story introduces Ember, a tough, quick-witted and fiery young woman, whose friendship with a fun, sappy, go-with-the-flow guy named Wade challenges her beliefs about the world they live in."

According to director, Peter Sohn, who did an interview with Variety, this story is not only a moral lesson on how differences between people can make a connection but is inspired by Sohn's background  as a child of immigrant parents moving to New York.

"Maybe it's because when I was a kid, I really didn't appreciate or understand what it meant to be an immigrant, to come to the U.S., and all the hard work that they did to give my brother and me our lives…On the other side, I married someone that wasn't Korean, and there was a lot of culture clash with that in my world. And that brought me to this idea of finding opposites," Sohn explained. 

There will also be other viewpoints surrounding this movie such as a diversity of people and trying to fit in that are inspired by not only Sohn's perspective but with the team that works with him as well such as Mamoudou Athie, who voices Wade, and Leah Lewis, who voices Ember. Athie and Lewis are both excited for this movie stating in an interview with Entertainment Weekly that they feel connected to Soh's story.

"Everything about this movie is something that is near and dear to my heart personally so it was just one of those things where it's like I would be so honored if I could be a part of this movie and and the fact that it's just so well written just makes everything about it a dream and I think that's what really drew me to this film," says Athie.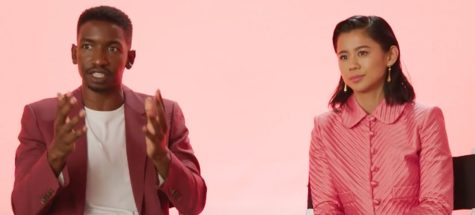 It's not just the "Elemental" team that's excited and interested in this movie but also Shadow Ridge sophomore Taylor Leach. Leach has only seen the trailer but can already say that this will be a good movie. Leach knows she will be enjoying it with her little cousins once it does come out. She also believes that viewers will be able to see themselves in this film.
"I feel like it will be really cool for different people to see themselves and their families within the movie because it can show them just how different people can come together and connect," says Leach.