Splashing into the Swim Season
Bringing on extensive training prior to the upcoming swim season, Shadow Ridge swimmers are improving and preparing for the spring. Student athletes have been working with coaches, in order to focus on bettering form and techniques in the pool. Held in the Centennial Hills YMCA pool, the Shadow Ridge swim clinic aims to assist swimmers in working on setting goals and improving techniques.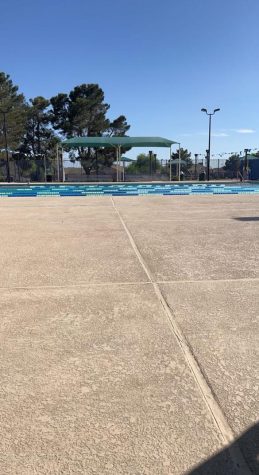 Swim coach, Michael Harris, conveys how "whenever we've held the clinic in the past, students who participated entered the regular season ready for harder workouts, and for their very first swim meet. They had a huge advantage over people who were just getting into the water for the first time."
Senior, Izabelle Nebeker, also explains how "doing the swim clinic in advance to the swim season gives the opportunity to get in shape before the actual season starts. Because there are less people who do the clinic than the actual swim season, there are more one-on-one opportunities with the coaches, to advance your technique."
Being given opportunities to receive personal feedback from coaches can contribute to increasing the abilities of an outstanding student athlete.
"At the clinic, the coaches have really been focusing on teaching us the correct techniques, which made me realize that some of my techniques weren't the best. Going to the clinic is really helping me focus on the little things, and getting my technique better so I can swim faster," Nebeker states.
Shadow Ridge Mustangs are working to build on previous skills, only to better themselves for what's to come this season.
Isis Gwin, sophomore, expresses, "The clinic definitely helps me get back in shape for the swim season, because I haven't swam in a while. It also helps me practice and improve on my technique in strokes before we start swimming again."
This swim clinic targets both guiding and preparing student athletes to face the challenges  to side with the swim season to come.
Coach Harris claims how, "Swimming workouts are very different from workouts for other sports, and with the clinic, we are able to work on techniques and skills beyond just getting into shape. Swimmers who start the season with the basic skills down, and in good physical shape, are much better prepared than even veteran swimmers who haven't been in the water since the previous season," Harris adds. "They're ready to learn how to really compete in the water."