ESCAPEability
Astronauts from previous missions have gone missing on Mars, leaving it up to seniors Mason Williams, Matthew Wood, and six other Shadow Ridge students in their homecoming group to work together to investigate the disappearances and solve the escape room.  Escape from Mars is one of the five escape rooms available to book at ESCAPEability located in Las Vegas by Downtown Summerlin.
Williams and Wood's group started off waiting in ESCAPEability's fun lobby, which has free arcade games for customers to play and enjoy. Then the group was prepped by the worker who explained the rules, how to solve different locks, how to ask for hints, and showed them the introductory video to fully immerse them in the experience.
"It was funny, when we were watching the introduction video, just as the lady said 'Watch out there's aliens behind you!' people in our group walked in through the door behind us," Williams shares.
The group had one hour to successfully escape the three connected rooms that were all Mars and space themed. Each room had its own puzzles and combinations to solve in order to progress to the next room or to get a piece needed to solve other puzzles. Three hints were allowed to be given at the request of the group and the workers were very detailed with their hints.
Williams says, "Don't be reluctant to ask for a hint and make sure to check things twice so you don't miss things."
The workers were very accommodating as well, offering to take people to the next room rather than having them crawl to the next room since the participants were still in their homecoming attire.
Wood's favorite room was the Mars room which had an illuminated ceiling, red bumpy ground, and a little rover to operate in order to get a key to the next room. Williams found cracking the combination for the four-digit lock in this room to be the most difficult because the lock was hard to see and the answer was scrambled on the ceiling. Nevertheless, Williams and the rest of the group were able to solve it and progress to the last room.
The clock was ticking down rapidly as everyone scrambled to find the right combination of buttons and switches. Luckily, they solved the escape room just in time.
"We finished it with 6 minutes to spare," Wood explains.
This meant that everyone in the group would get to sign their names on the walls in the hallway. The walls were filled with names of other people who had also completed the escape rooms.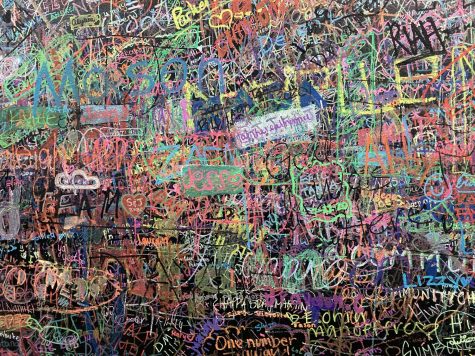 ESCAPEability's private escape rooms are available to book for $35 per person or lower depending on the deals and promotions available. Williams and Wood's group completed the Escape from Mars room which is a medium difficulty level and has a success rate of 35%.
For those wanting to participate in an escape room, Wood advises, "Make sure you work as a team and you have to be quick."