Iconic Christmas Tunes
Rolling around in every store come October 31 is the infamous integration of Christmas music into ears everywhere. Spreading holiday cheer, love, happiness, and getting stuck in everyone's heads, Christmas music is a staple to every holiday season. Everyone has a holiday song that brings them joy when it comes on. 
Sophomore, Alicea Epherson says, "My favorite Christmas song is Falala by Justin's Bieber and Boyz II Men because it's an old classic from when Justin Bieber was in his iconic era and my sister and I always sing the song together on our Christmas road-trips."
Iconic Christmas songs can be iconic because of their value and the way they make people feel.
Athletic director, Nikkole Turner says, "I like Silent Night the Temptation version because it reminds me of spending Christmas at Grandma's house."
The feelings that holiday songs feed out make people continue to come back for more. 
Sophomore, Madi Miller says, "My favorite Christmas song is Mele Kalikimaka because it reminds me of Hawaii and I love Hawaii and it's such a vibe."
Not all Christmas music comes from a feeling, or a radio station. It also comes from some of the most iconic movies ever as well.
Coach Lisa Bishop says, "I really like White Christmas because it comes from my favorite Christmas movie."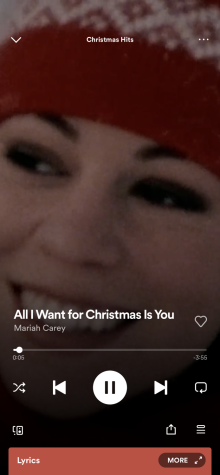 Many have songs that they find iconic for no true reason. 
Sophomore Jasmin Felix says, "I think Mistletoe by Justin Bieber is the most iconic because it just is."
Another that fits into this category of just liking Christmas songs because they are iconic is sophomore, McKenzie Sinai. 
Sinai says, "I think Rockin' Around The Christmas Tree because it is just a classic."
Many others also fall into this category like freshman, Maliyah Ogden. 
I like Frosty the Snowman, it is just the best," says Ogden. 
One of the most iconic Christmas songs of all time still plays everywhere in places today and probably forever more. 
"Mariah Careys "All I Want for Christmas Is You" because it is a song in which you can't escape during the Christmas time and is played over supermarkets, malls, radios, etc.  it brings love and desire to this wonderful holiday," says sophomore Adrian Robles 
Many love Christmas songs for unique reasons that relate to who they are. Sophomore Holly Thomas is one of them.
"I like Holly Jolly Christmas because it has my name in it LOL," says Thomas. 
Whether it is a new song or an iconic oldie, holiday tunes will never get old.