Devotion
Released November 23, "Devotion" follows the true story of the first black naval aviator Jesse Brown (Jonathan Majors) and his squadron member Tom Hudner (Glen Powell). Taking place during the Korean War, the two work together in their squadron and become close friends, despite prejudices Brown must face.  It was based on the 2015 book "Devotion: Story of Heroism, Friendship, and Sacrifice" written by Adam Makos.
When starring actor Glen Powell first heard of this American war story, he was intrigued. To Variety, he said, "Reading it, I remember thinking that it was incredible that I'd never heard this story before." He took the story to Black Label Media, and was later a producer of the movie, backing up the story that had inspired him so much.
This film was directed by J.D. Dillard, who directed "Sleight" and "Sweetheart." Dillard's father, Bruce Dillard, was also a naval aviator, and the second African-American flier in the Blue Angels, a flight demonstration squadron. Having had experience with the naval aviation, this made him the perfect choice for director.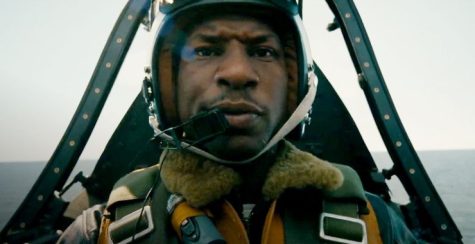 Receiving an 81% rating on Rotten Tomatoes' tomato meter, "Devotion" was labeled "Certified Fresh." Rotten Tomato critics evaluated it as, "Honoring real-life history while delivering impactful drama, "Devotion" is a straightforward biopic elevated by standout performances from a talented cast."
The "talented cast" also includes actors such as Christina Jackson playing Elizabeth Taylor and American singer Joe Jonas playing fellow naval aviator Marty Goode. Jonas also co-wrote the closing credit song with Ryan Tedder, along with Khalid performing called "Not Alone."
Jonas's character Goode, proved to be a new experience for him that opened his creative outlet.
Are you going to see Devotion?
Sorry, there was an error loading this poll.
"Yeah, there were nerves that would come into play here and there, but it's good to feel something like that again," Jonas describes to EW. "It's been a while since I was putting myself in rooms where you're like, 'Oh, okay, I've got to show up, I've got to show my worth in this, and the pressure is on now,' and how do you bottle that up and utilize it and use it to your advantage, instead of letting it just eat you and take over."
Junior at Shadow Ridge High School, Jesse Dinkfeld is excited to make a trip to the theater to experience this historical film.
"I got goosebumps from watching the trailer and the best part is that this movie is a true story." Dinkfeld said. "I can't wait to watch it on the big screen."