SZA's New Album "SOS"
Solana Imani Rowe, better known as SZA, has the world in a tight grip. She's been releasing her R&B EP's since the early 2010's but her popularity rose with the release of her 2017 debut album Ctrl. The 14 time Grammy nominee is loved by many with her heartbreaking lyrics and catchy beats and has kept fans on the edge of their seats anticipating a new album. Finally, after 2 years of releasing singles and promising fans the album is soon to be released, her second album SOS is now out everywhere.
"I love it, it's been on repeat nonstop. I hate that I relate to it so much," says senior Marielle Tuazon
Social media has sent SZA's career into unimaginable heights. As of more recently her songs have been going viral on Tiktok with challenges along with them. Songs with only short snippets like 'Shirt' and 'Blind' were popular on the video sharing app long before her 2nd album was announced. After years of promising her album was going to be released soon, like at the 64th Grammy Awards last year,  she finally confirmed it in an interview with Billboard in November, and after performing on Saturday Night Live is when she released the album cover to her Instagram. The tracklist to her album contains 23 tracks. The tracklist shocked many fans with features from artists like Phoebe Bridgers and Travis Scott. The album contains previously released singles like "I Hate U" and "Good Days."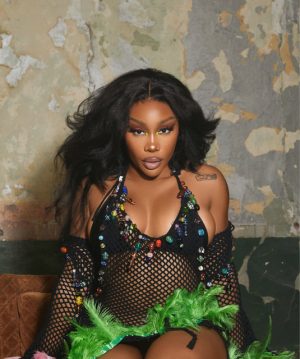 The album has already gained a lot of popularity after the release. It trended on Twitter the night of its release and has reached number 1 on US iTunes. A lot of professional reviews are in and are giving the album immense praise. NME gave it a 100, Rolling Stone, Clash Magazine and the Guardian gave it an 80. Celebrities like Lizzo and Saweetie have also shown the album love via Instagram.  The album is listed in the R&B genre similar to her typical style but has a completely different sound than any other SZA project. The song "F2F" have a punk rock vibe while "Blind" is an acoustic track.
SZA has since released the music video for "Nobody Gets Me Like You," which has already  received 2.4 million views. In addition she announced that she will be releasing a deluxe edition with songs featuring stars like Lizzo, though she didn't reveal when that would be released. She also announced a North American tour via Instagram with special guest Omar Apollo. Tickets go on sale December 16th and the tour will kick off in Ohio in February of 2023.