Santa Claus is Coming to Summerlin
As SRHS students are approaching the holiday season many annual festivities are making their way back to Las Vegas including the Downtown Summerlin Holiday Parade. Vegas locals and visitors can now experience this fun activity. 
Festive floats make their way down the streets of this outdoor shopping mall with fun music and dancing for all. Getting to see some favorite holiday characters and even Santa Clause can bring enjoyment to those of all ages. Having free admission to the general public makes it a great activity for families and friends to attend. 
On Park Centre drive every Friday and Saturday night at 6pm, adults and children are lined up on the sidewalk taking a break from their holiday shopping to join in on the festivities. 
Katie Yant, sophomore, says, "The holiday parade looks super fun and could be a great way to end a day of shopping. I have not been yet but the lighted floats look super pretty and cool to see."
There are also many other activities that take place in Downtown Summerlin for shoppers to participate in as well as many other parades throughout the year. After watching the parade, students can head over to Red Rock Chocolate Factory to get a fantastic hot chocolate. There is also the Rock Rink near the Downtown Summerlin Pavilion. These activities would all make it a great Christmas outing for friends and family.
"The holiday parade was such a great time to bond with the people I love to spend the holidays with. I was chilling with my family and friends just watching the festivities," says sophomore, Isabella Mora. "My favorite part was the dancers. I always enjoy watching great choreography."
The parade is just a quick 30 minutes of entertainment but creates memories that will last forever. Fun costumes and fake snow are something Vegas residents don't see everyday. The parade also offers a special appearance from the big man himself, Santa.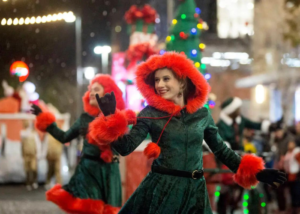 Aiden Maynor, junior, said, "Going to the parade has kind of become a tradition in my family. Lots of our extended family lives in Las Vegas by me which makes it fun for all of us to go. We will go Christmas shopping for our cousin gift exchange and then watch the parade. The past few years we have also stopped at The Giving Machine to donate to those in need. The parade has become one of my favorite family traditions during Christmas."
Bringing this parade into other holiday traditions is a great idea and way to further celebrate the Christmas season. The parade keeps Shadow students spirited during the winter break.