Black Panther: Wakanda Forever
"Black Panther: Wakanda Forever" was released on November 11th in the theaters and ever since people and fans have been lining up to watch this anticipated movie that has had everyone on the edge of their seat. As the second movie to "Black Panther," Wakanda explores the adventure of Shuri and Queen Romanda, her mother, navigating their way through King T'Challa's death along with their trusted allies among their people M'Baku, Okoye, the Dora Milaje,Nakia, and Everett Ross. As they fight for the nation of Wakanda among their newest enemy, Namor, who's the leader of the Aztec civilization Takalon while creating a new way for their Kingdom. The movie sounds exciting in itself but there are other interesting aspects to the movie as well such as the film acknowledging Chad Bosemen's death, and the history and correctly representing Mexicans. As Ryan Coogler, the director of the film states, that the film wanted to represent Mexicans and highlight their sustained traditions in spite of tribulations they've had to face.
"We had experts in Mesoamerican and Mayan culture, we approached different professors from various universities, who helped us to carry out the entire process of the correct representation of culture…" Coogler said to Mexico Daily News.
Along with trying to correctly capture the representation shown, Coogler tried to make this film something that Chadwick Boseman, the late actor who played T'Challa, would be proud of. Coogler told BET just how excited Bosemen had been for the then upcoming movie and while it was difficult to make the movie without him, he still left a big mark behind on the world and in both "Black Panther" movies.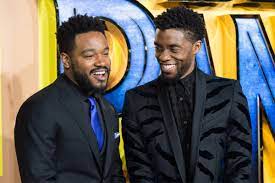 "This film we were able to complete carried a lot of the things Chadwick was excited about. I could sense what kind of films he liked and what would excite him — he was a deep thinker and could see a lot in small things while simply explaining vast concepts. He would enjoy the attempts in the film." In the screenplay, the character he portrayed so well is always discussed, and you feel his absence. Chadwick was a giant of a man and left a big mark on the world; people who may not meet him, but the mark he made on people who could experience him was substantial. Making the film without Boseman was difficult and daunting, but we had to lean into it." 
And with all the effort the film crew put into it has really put an effect on audiences that have watched it such as junior Taylor Brimhall from Shadow Ridge who enjoyed the movie.
"My impression of the movie was that it was really good but I did think that the first one was better because it was more original but overall I think they did a great job putting it together."
Brimhall also felt they did well in the representation that was shown for Bosemen and said how she would recommend this movie to others from how good it was and others should watch it, especially if they watched the first "Black Panther" movie.