Taylor's Tour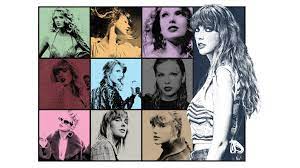 Taylor Swift is loved all over the world and with her new album, "Midnights," she is only gaining more popularity. Just as she released her new album she announced that she was going on tour, named "The Eras Tour." Fans were ecstatic at this news and are already getting ready for the coming spring. Students at Shadow are obsessed and waiting for the day to come when they can see their beloved singer.
Sophomores Grace Marino and Megan Barrette are super excited for the coming concerts. Barrette plans to go on March 25, 2023 to the Vegas concert with her best friend. Barrette explains that she does not really consider herself to be a "Swiftie," a super fan, but that her best friend definitely is.
"I hope to hear 'Karma', 'Mirrorball', and maybe 'Style'," Barrette states.
Marino plans to go to the concert here in Vegas but is currently struggling to find a ticket. She loves Taylor Swift and all of her songs and can't wait to see her on stage. Marino states that she is definitely a "Swiftie." She says that she loves the "Folklore" album and can't wait to go.
"I think one thing that makes her different is the fact that her music is very changeable. Her albums have different kinds of vibes," Marino explains. "Her music is bold but it's something that I can put in headphones and just listen to in the background without being distracted."
What is Taylor Swift's best album?
Sorry, there was an error loading this poll.
Sophomore Kennedi Johnson can not make it to the concert but she wishes she could. Johnson explains that she has always loved her music. Johnson enjoys singing to her songs over the radio with friends and loves how relatable they are. She feels like she can really relate to them. Taylor Swift, in Johnson's point of view, has grown so much. She explains that there's so much more passion in her songs than before.
Marino also agrees that Taylor Swift has grown and matured since the 2000s. 
"…her music type has changed and I like that she is more confident and not worried about the 'backlash' she's gotten in the past from 'only writing songs about her exes,'" Marino states.
"The Eras Tour" showcases Taylor Swift's songs from every decade. Shadow Ridge students will be able to hear Swift's music played live right here in Las Vegas.
"She's changed so much since the 2000s. Her style has completely changed and she's matured so much, you can see that in her music. She's no longer just a country artist,"Barrette says.