Spotify Wrapped Season
Towards the end of each year, music listeners get an early present from their preferred streaming service. Spotify Wrapped is the most famous yearly music round-up but Apple Music has one too. This year's Spotify Wrapped has come out with each user's music year in review.
Ever since December 2016, Spotify has been doing Spotify Wrapped. This allows users to see the data of all their music habits throughout the year and share it with their friends on social media or via text. From January 1st to the cutoff (usually the end of October) Spotify is tracking users' music data like top artists and songs. Music from November and December are not recorded because Spotify doesn't want Christmas music overtaking a user's data.
Spotify Wrapped is structured like an Instagram story, screens of information and data from the users account. They include Top 5 Artists, Songs, Albums, the number of minutes spent listening to music and more. This creative format was created by Spotify intern Jewel Ham. In 2019 Ham said via Twitter that she was the one who created the idea for the story format and was never credited for it. Spotify denies these claims.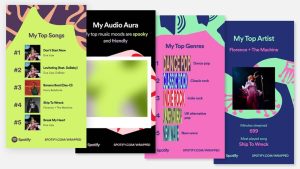 Spotify Wrapped is an extremely successful campaign with some users calling it a 'National Holiday'. The response is always very positive like In December 2019, more than 1,200,000 posts on Twitter were about Spotify Wrapped after it came out near the beginning of the month. 
"I always get excited to see what mine and all my friends tops songs and stuff," said senior Marielle Tuazon
Due to the popularity of Spotify Wrapped, Apple Music has taken a similar approach with their very own Apple Music Replay. Throughout the year, Apple Music users are able to view their top 100 songs, along with their most listened to artists and albums. A new Replay structure, which debuted this year, is very similar to Spotify's. With a story like format and the ability to share it on social media. 
Spotify and Apple Music have released the most streamed artists and songs across the platform. Spotify Wrapped had Bad Bunny at the top of the charts as the top streamed artist for the third year in a row earning the first three-peat. Along with his 2022 album Un Verano Sin Ti, which was the top streamed album globally. Spotify also saw stars like BTS, Taylor Swift and Billie Eilish in the top 5 most streamed artists of the year. Harry Styles' "As it Was" earned the crown for most streamed songs.