Home For The Holidays
Christmas time is fast approaching, but luckily there's no shortage of fun Christmas activities here in Las Vegas. Whether with family or friends, day or night, there's plenty to do this holiday season. 
One of the most popular things to do in the winter time is Glistening Lights, Nevada's largest drive-thru light show on the Las Vegas Motor Speedway. The Speedway is 2.5 miles long and the show features a total of 3 million lights, 170 lighted trees, and a live nativity scene. The speedway is open now until January 6th, and tickets can be purchased online.
Another classic Christmas experience for Las Vegas residents is going to the Ethel M Chocolate Factory. The Chocolate Factory is home to a three acre cactus garden that's decorated extravagantly for the holiday season. The garden is lit up with more than half a million lights along with animated reindeer and other decorations. The best part about this experience is that it's completely free!
As it turns out, living in the desert doesn't hold Vegas people back from traditional winter activities like ice skating. The Rock Rink in downtown Summerlin is an 8,000 square foot real ice rink open from now until January 17th. The Rock Rink features a 40 foot lit up Christmas tree overlooking the rink, a holiday train circling the ice rink, and a hot chocolate truck. All ages are welcome and skate rentals are only $16.
On top of those three options, there are even more fun things to do down on the strip. The Bellagio Conservatory puts on a huge holiday display from December to January. People come from around the world to see the gardens, and this year's holiday display is indicative of the effort put into it each year.
"During the course of each seasonal exhibit, more than 10,000 potted flowers are hand-watered and switched out every two weeks," says Vegas.com. "The horticulturalists, who are artists in their own right, create jaw-dropping displays that most people couldn't even make with paper, let alone flowers. It's pretty safe to say that they have more creativity in their pinky fingers than most of us do in our entire bodies."
Also on the strip there is a rooftop ice skating rink at The Cosmopolitan of Las Vegas. The Ice Rink has everything from holiday movies to fire pits for roasting S'mores, as well as light snowfall on the skaters throughout the evening.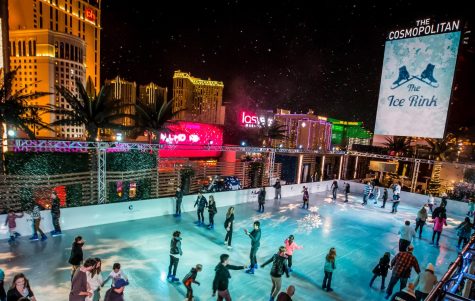 Lastly on the strip is the Aria's Winter Wonderland Display. The craziest part about the huge Christmas display is the fact that it's all edible.
"The final product took over 200 hours to complete and features a centerpiece of a giant snow globe filled with a happy snowman and a mischievous gingerbread man made entirely of dark chocolate, tall trees made from 1000 French macarons, adorable, handcrafted bears, and 15 pound sugar cubes," says Vegas.com. "The Aria Patisserie nearby can help satisfy your sweet tooth with plenty of tasty treats and warm beverages that you can enjoy while you snap a few photos at their exclusive holiday photo opportunity."