Lohan Back on the Big Screen
  After her short hiatus, Lindsey Lohan has jumped back into business with a Christmas special. From something good to something even better, she has revived her skills scoring her first primary production in over a decade. Lohan has taken it upon herself, with the rest of the cast, to get everyone in the mood for the holiday season.
The movie, "Falling for Christmas," has taken the screen as a Netflix Original. Released on November 10th, the Netflix special has ranked #4 on the streaming services' top 10 watch list. Taking on several different genres like holiday, romance, and comedy, the movie has a little something for everyone to enjoy. 
"I have always loved watching Christmas movies too early; this came right on time! The snowy visuals and the comforting story-line got me so excited for December," states sophomore viewer, Isabella Mora.
The movie follows a recently engaged woman, Sierra Belmont, who is the daughter of a wealthy businessman as she takes advantage of all that being rich entails. On a skiing trip with her finance, there is an accident where she suffers slight injuries but has total amnesia. 
While not able to remember her name or where she is, a local lodge owner takes her in for the time being to help her get back on her feet. He, his ex-mother-in-law, and his daughter all run the lodge and take care of Belmont through the days leading up to Christmas day. 
How do you feel about "Falling for Christmas"?
Sorry, there was an error loading this poll.
As Christmas grows closer and closer by the hour, more fans of the movie and lovers of the holiday jump in to watch the film. At the same time, some people watched the movie because it had a Christmas theme, but many watchers were long-term fans of Lohan and were excited to see her return. 
"I'm very excited about the movie because I loved her acting in her earlier films like 'Parent Trap' and 'Mean Girls.' I love Christmas time, and I cannot wait to start getting into the spirit," exclaims Lohan fan, Grace Marino. I genuinely love her roles, mainly because the films she starred in years ago became such a crucial part of the late 90s and early 2000s; I believe the projects she is a part of now will have a similar effect."
Lohan took it upon herself to separate her life as a celebrity actress from her personal life because of fans' criticism in recent years. Lohan had a lot to handle in that period, facing many personal issues surrounding substance abuse and other behavioral drawbacks off-set.
Nevertheless, with her comeback, many people are happy to witness her return to the big screen with ironic and catchy movie lines.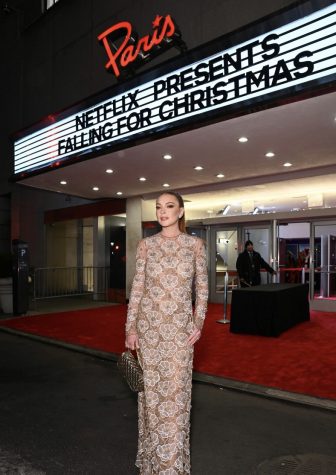 Mora exclaims, "Lindsey Lohan is so iconic and passionate about her work. I'm so excited that she's back!"
The movie takes place in Aspen, where three main settings are used in the movie production process. These lodges and peaks in the mountains were found in parts of Utah like Goldener Hirsch, Deer Valley, Park City, and Salt Lake City. These have been seen and recognized for their beautiful scenery and great shooting spots.
She already has a couple more Netflix Originals lined up for the near future, but patience is key. Though Lohan has made her appearance in other ways outside of acting in the recent past, getting her back on the big screen takes her comeback to an all-new level.