Kaden Moya: The Scooter King
Kaden Moya is a sophomore at Shadow Ridge High School who loves scootering in his free time and has been doing it for a long time. Moya has acquired a large Instagram following where he posts videos of his scooter tricks.
Moya began scootering after his friend, Trevor Grondahl, got him into it. Grondahl was big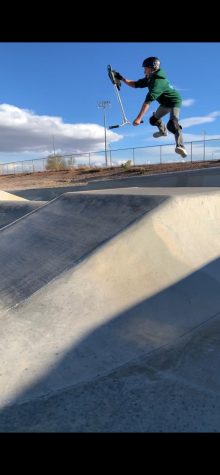 into scootering until he got injured in a contest. 
"I injured my spine and tailbone in the Red Bull Invitational tournament by doing an umbrella double backflip over the spine in the tourney. Almost landed it then slipped on the landing and slammed my back on the spine breaking three sections," states Grondahl.
"I'm sure Trevor was going to be great one day if he didn't get into an accident," Moya assured.
Moya was sad when his mentor got hurt but he kept going. He has learned a lot of impressive tricks because of this. Moya goes to his favorite skate park next to Betsy Rhodes Elementary School.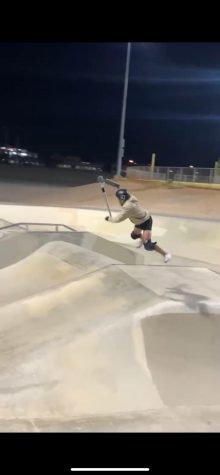 Moya says, "During the summer I would go there every day for hours to get better and just for fun." 

Moya practices a lot and that is why he succeeds. Moya learns these tricks so fast that he makes it look easy. Moya has an impressive arsenal of tricks but his favorite one is called the buttercup. Moya's favorite trick isn't his most difficult and time consuming.

Moya stated, "My hardest trick and one that took the longest was the bar spin triple whip air. It took me two days to learn it."

Although to most, two days doesn't seem long but, to Moya, this took ages. He says he spent hours both days learning to do the trick but the feeling was awesome when he finally stuck the landing.

Kaden Moya

Moya is a fast learner when it comes to scooter tricks but it all comes with a lot of trial and error. In the time that Moya has been scootering he has made a lot of videos of him landing all sorts of different types of tricks. Moya then posts these videos on his Instagram and gets hundreds of views of him landing these tricks. But, Moya still posts some of his videos of his tricks and fails trying to learn these tricks. Moya is extremely inspiring because of this. 

"No matter how many times I fall I keep trying knowing that I will finally get the trick down and then it all becomes worth it," stated Moya.

Moya sure has dedication and perseverance. Moya says that his favorite part of scootering is the satisfaction and feeling of accomplishment that comes when he completes a new trick.