Live Little Mermaid Inspiring Children of Color Everywhere
Most people have seen and heard the big news of Halle Bailey playing Ariel in the upcoming live action Little Mermaid movie coming in May 2023 through the teaser released at Disney's D23 Expo. Not much is known about the movie and there has been controversy on the internet about Bailey taking the role. It is undeniable that representation has a positive effect on children of color. Bailey understands this importance as well, since she knows these young children will see themselves in her while she is on the big screen.
Youtube
"The fact that now it's getting to be played by me, a person who looks like me, a woman of color, I'm just like, wow, I'm so grateful for what it will do for all the other little black and brown boys and girls who will see themselves," says Bailey in a People's Magazine interview.
Bailey's comments ring true from the countless responses and reactions posted across social media from Black parents of their children, especially their daughters, having an overjoyed expression just seeing a character like them portrayed on screen.
In one TikTok account named jendayis682, an African American little girl is being recorded by her mom when viewers see the young girl,  gasp and light up and saying, "She's Black!" It's not just the girl who is  excited by her appearance; the mom captions the video 'Do you understand how it feels for our babies to see themselves in the fairy tales that the world said wasn't made for them? I hear nothing over the joy and excitement this little girl has over seeing a person who represents her."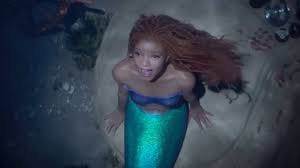 Bailey was emotional seeing these kids' star gazed reactions.
"It's a crazy feeling to see all of the baby's reactions to just the teaser and it's really overwhelming…I'm just overwhelmed and filled with so much gratitude," says Bailey in a Q&A video on her YouTube account.
Seeing how excited the children are, she can also feel her inner child bursting with excitement. Having fallen in love with Ariel when she was five years old, she not only got to act out every little girl's dream of falling in love but also for her want of a greater world.
"I want the little girl in me, and the little girls just like me who are watching, to know that they're special, and that they should be a princess in every single way," Bailey says. "There's no reason that they shouldn't be. That reassurance was something that I needed."
Even Ms. Tai, the AP secretary at Shadow Ridge High School, can agree with what Bailey has said.
"It gives a message of hope, possibility, and inspiration. Some youth may not live the best life and seeing themselves as princesses will give them the motivation to strive for the best and to reach for the stars."