Sequel Story- It Starts with Us
After six years of waiting, Colleen Hoover has finally released the prequel to her novel "It Ends with Us" with "It Starts with Us" on October 18. Hoover is the #1 New York Times bestselling author of many books, including a few series. The original book of this particular series is called 'It Ends with Us." It is a romance novel about a young girl, Lily Bloom, and how she falls in love with a surgeon, Ryle Kincaid. Their relationship goes through a lot of ups and downs throughout the story and initially takes on a large plot twist.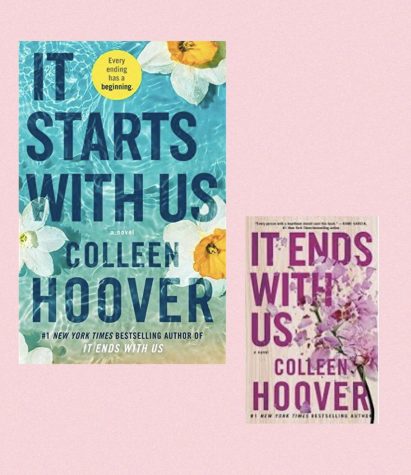 Sophomore, Alexis Gonzales says, "I've been anticipating this book since I put 'It Ends with Us' down. 
Many people agree after waiting so long for the next part of the story. According to Trailblazer, Hoover's novel went viral on a TikTok hashtag called, "Booktok," where people share how they feel and even create time lapses of themselves reading to get their real reactions. This new story is already getting its recognition on the hashtag. Even with the positive aspects, Hoover's books tend to raise large amounts of controversy as they cover some serious topics that can be sensitive to some readers. 
Sophomore, Avrie Vohs explains, "I'm so excited to read it!! I've been waiting forever."
In the first book, Bloom is focusing on her new life in Boston, where she moved for a fresh start and to see what positive things life might bring to her. The thing with Bloom is that she has a dark past that includes a boy named Atlas Corrigan. In the new book Corrigan and Bloom tell the story rather than Bloom and Kincaid; giving readers a totally different perspective whilst continuing the story after the cliffhanger in the last book.
"I can't wait to see how this story ends after waiting for so long, Colleen is such a great writer," Gonzales continues. "I've read a lot of her books so far but I feel like this series is just so special since we had to wait so long for the next part of it, it's like the waiting just made me more excited to read."
Hoover is well known as a romance novel writer but in this book, it isn't just about the glorification of young love, it's what could come with it as well. The new book is already getting a large amount of attention despite just being released just this week. After all of the built up anticipation from awaiting fans, the book was able to be pre-ordered online and is available in forms of audio book, e-book, and of course in person copies at local stores. The book has already been introduced over many popular news stations including 'Today' and 'Time'. 
What is your favorite CH book?
Sorry, there was an error loading this poll.