The Sun Youth Forum: The Future is Bright
After two long years of being canceled, the Sun Youth Forum is finally coming back on November 8th at Liberty High School! Transportation will be provided for juniors and seniors who are interested.
Amidst the pandemic and many social issues that go on are those who needed somewhere to talk about their views on certain topics. For many young people, it is difficult to voice their thoughts on a larger stage. Being constantly shut down and having so much pressure weighing them down to say the right thing, teens today have a lot to stomach when it comes to telling others their beliefs. The Sun Youth Forum serves as a safe space for those students who hope to talk about what they believe in and what they are passionate about.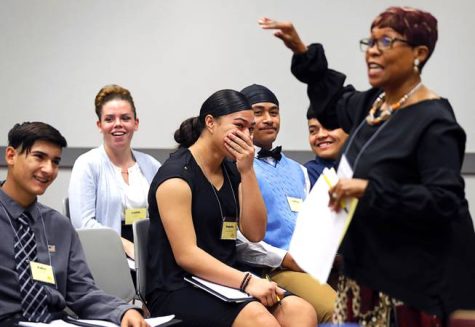 Mrs. Killgo has been an advisor for this one-day event for about ten years now.
"I am excited for the event returning after two years of being canceled due to the pandemic," she tells. "I think the students should be excited about interacting with high school students from around the valley and seeing that they are not all so different after all."
This event was established in 1955 by Hank Greenspun, the publisher of the Las Vegas Sun newspaper. The goal of the event as a whole was to become a place for students to speak and adults to listen. Knowing that the future is the youth, Greenspun took it upon himself to create a platform for them to interact. A moderator helps keep the conversations going and does not interject with their own opinions.
There are numerous topics that are covered at the Sun Youth Forum. From international issues to educational issues, there is a large spectrum of topics for students to truly discuss with one another.
"The purpose of the forum is for students to have a chance to voice their opinions and concerns about what is going on in the world today," Killgo explains.
Being a part of this event is an amazing opportunity for those who want to be heard. Having this experience with others that are the same age helps promote an open-mindedness that is often difficult to find nowadays. 
"It does bring awareness to us," a student shares. "Because we are teenagers, we are often trapped in our own bubble and we are not as socially aware as we could be."
At the event, it is a wonderful way to be recognized for one's thoughts. After being gone for so long, the Sun Youth Forum welcomes students to really take a stand and keep up with the issues that are going on around the world.